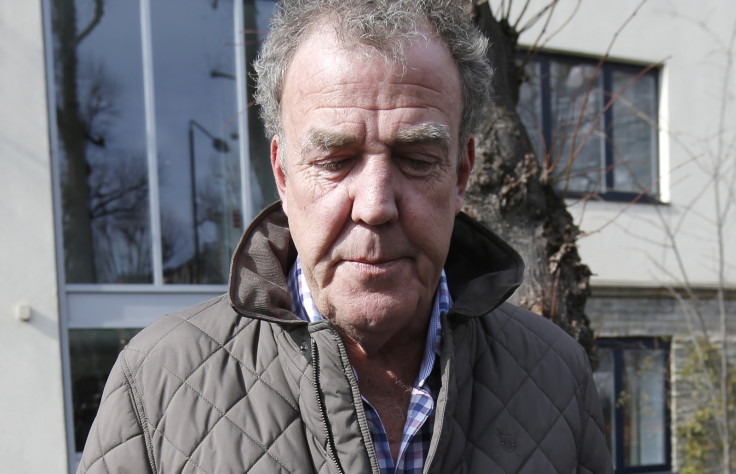 Jeremy Clarkson posted a photo on Twitter of his face charred and bleeding. The former Top Gear host sustained injuries while attempting a stunt on 1 April.
The 55-year-old, who did not suffer any serious injuries, earlier wrote on Twitter, "Tomorrow morning, I'm doing the most dangerous stunt I've ever attempted. This may well be a goodbye." A day later the TV host shared a photo of his face with the caption: "I survived the day. Just".
Replying to the post, one person said: "@JeremyClarkson looks like makeup jezza." Another wrote: "@JeremyClarkson of course it's make up. Another ludicrous publicity stunt." According to The Independent, Clarkson later told fans: "You're going to feel silly when you see the show. It so isn't make-up."
Last month as well, the motoring specialist shared a photo of a mangled car and wrote: "Had a bit of an accident while filming today." Co-host of Clarkson's upcoming automotive show, Richard Hammond replied: "Two words for you: Dingle. Berry." Clarkson was not injured in the accident.
The motorshow host has started filming for his upcoming series on Amazon Prime along with co-hosts Richard Hammond and James May. The trio left BBC's motorshow after Clarkson was sacked in March 2015 for punching producer Oisin Tymon.
Clarkson apologised and agreed to pay damages to Tymon. In a statement, he said: "I would like to say sorry, once again, to Oisin Tymon for the incident and its regrettable aftermath. I want to reiterate that none of this was in any way his fault."
"I would also like to make it clear that the abuse he has suffered since the incident is unwarranted and I am sorry too that he has had to go through that. I am pleased that this matter is now resolved. Oisin was always a creatively exciting part of 'Top Gear' and I wish him every success with his future projects.''
Amazon Prime has a budget of $300m (£211m) for three seasons of 12 one-hour episodes of its new show. Amazon CEO Jeff Bezos has admitted that the deal was "very, very, very expensive".