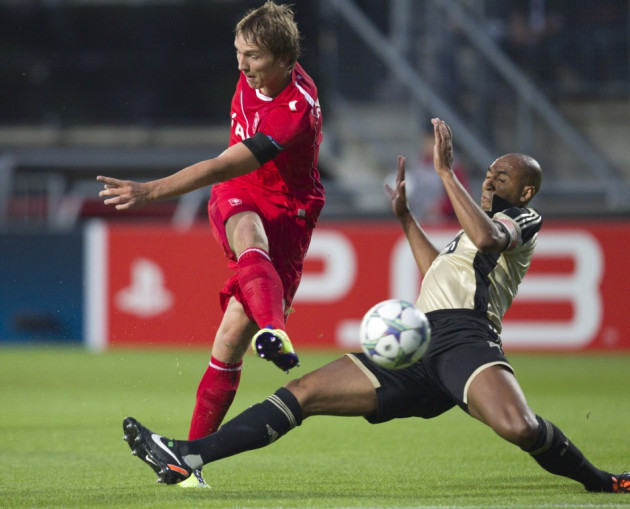 The agent of Luuk de Jong has told the International Business Times UK that he has had "no direct contact" with Newcastle United or Liverpool over a possible transfer for the FC Twente forward, and cautioned the player was unlikely to move before the end of the season.
The 21-year-old, who is under contract with the Dutch side until June 2014, had been linked with a move to the Premier League in the current transfer window, after he suggested he would relish the chance to play in England one day.
But de Jong's agent, Louis Laros, revealed that while a number of top European sides, including Liverpool and Newcastle, were monitoring the Dutch forward neither club had made official contact over a January transfer.
"I don't think a transfer is possible [to Liverpool or Newcastle] because I don't think FC Twente will let him leave in the winter transfer period," Laros told IBTimes UK. "If there is a possible transfer then I think it is at the end of the season.
"I haven't received a phone call from Liverpool or Newcastle that they are completely interested in Luuk de Jong. For this moment, I think it is just a rumour.
"I know they [Liverpool and Newcastle] are watching him but I have had no direct contact with both clubs over a possible transfer."
The young striker has been in sensational form for Twente this season, scoring 10 goals in 12 Eredivisie appearances, as he targets a place in the Netherlands squad for this summer's Euro 2012 Championship.
And earlier this month, de Jong told Fifa.com he would consider a move to the Premier League, should an attractive offer arrive.
"I'm still very happy playing for Twente, but every player has dreams," de Jong told Fifa.com.
"Mine is to play in a nice foreign competition one day. And the Premier League is a really nice competition. I don't have real plans for the future - I'll see what comes my way."
Both Newcastle and Liverpool made enquiries over de Jong's availability in the summer but Laros cautioned the Dutch international was just one of many young players attracting interest from Europe's top clubs.
"No, there has been [no contact] in the last few weeks. I spoke to Newcastle about Luuk [de Jong], his brother Siem and Ricky van Wolfswinkel but I only know they are watching, for a possible transfer it's too early.
"I didn't receive a phone call to start negotiations; they are only watching him at the moment.
"Maybe I will get a phone call tomorrow from the club saying they are ready to start negotiations but until then, nothing is happening."
When questioned about Newcastle's reported interest in Laros' other clients, he said:
"I know they are also watching Siem de Jong of Ajax - he is a very interesting player. [They are also] watching Ricky van Wolfswinkel from Sporting Lisbon.
"But clubs like Liverpool, Newcastle, Manchester United and Arsenal they are watching every good young player in Europe, and these guys are one of those players who could be interesting for a lot of clubs.
"They are watching them but they are also watching a lot of other great young players. There has been nothing yet."