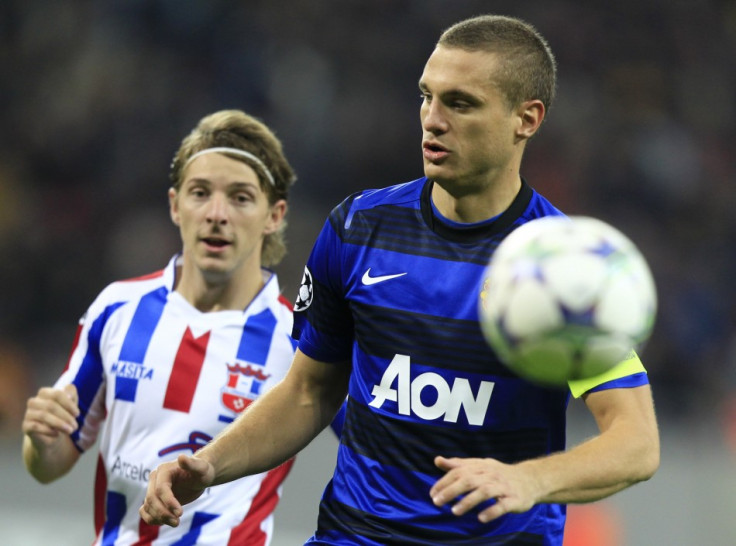 The International Business Times can confirm Manchester United captain Nemanja Vidic has no intention of leaving Old Trafford, despite reports linking the Serbian with a move to Real Madrid.
Reports on Thursday morning suggested Sir Alex Ferguson was considering jettisoning his towering centre-half at the end of the season, on the condition Real Madrid made a suitable offer to Manchester United.
Despite the report and regardless of Ferguson's alleged intentions, Nemanja Vidic's agent Silvano Martina, via an English speaking colleague, confirmed to The International Business Times that the Old Trafford stalwart has absolutely no intention of leaving the Premier League champions at the end of the season.
"There is no news. The move is not possible." Paolo Fabbri exclusively told The International Business Times.
"Vidic has no will and has made no request to leave Manchester United."
The recent emergence of Phil Jones and Chris Smalling and the gradual improvement of Jonny Evans have raised various question marks about the long term futures of Vidic and indeed his customary centre-back partner Rio Ferdinand.
The defensive duo have been the mainstay of Manchester United's recent successes both in the Premier League and in Europe, and prior to this season were widely regarded as one of the strongest units in world football.
Injury and a perceived lack of form have inhibited the players' first team opportunities this season but both will be expected to play a hugely prominent role at Old Trafford as the club bids to defend its Premier League title.
Ferguson recently lauded Ferdinand as one of the country's top footballers, even though he acknowledged the 33-year-old would have to adapt his game in order to manage his fading pace. The Scot was also eager to single out Vidic in the aftermath of the 30-year-old's robust performance against Everton, which came shortly after the club's Manchester derby debacle.
"In the second half Everton kept popping that ball into the box but with Vidic in that type of form we were never in trouble." Ferguson said of his captain, who was making only his second Premier League appearance of the season. "He was fantastic, every ball he seemed to head clear."
Vidic signed a new four-year contract at the beginning of last season and although the player's future has always remained the subject for speculation, the IBTimes were told in no uncertain times that Manchester United's captain was committed to the club and was certainly not making any plans to leave England.
The report casting doubt over Vidic's future at Old Trafford claimed 'Ferguson is no longer convinced that Vidic is 100 per cent committed to United,' but the player's recent retirement from international football, suggests he is ready to address any alleged misgivings from his long serving manager.