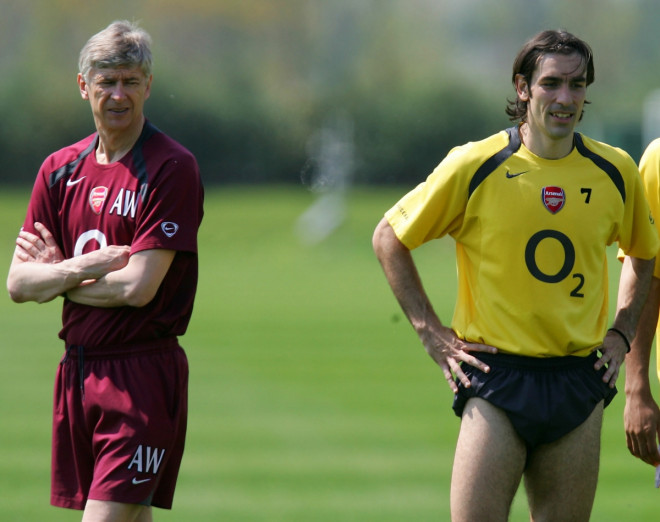 Arsenal legend Robert Pires has granted an exclusive interview to IBTimes UK to talk about Arsenal's current situation.
Pires etched his name into Arsenal history during six seasons at the club, winning three FA Cups and two Premier League titles, including the club's famous 2003-2004 unbeaten season.
Here he tells us about his time in North London, speaks about the current squad and encourages Arsene Wenger to stay and forge a better squad in the summer by signing a top new striker.
What are your biggest memories from your time at Arsenal?
I spent six seasons at Arsenal, working alongside Arsene Wenger and some of the best players around the world like Henry, Vieira or Bergkamp. We won the League, the Cup... and even though we lost the Champions League against Barcelona I had great memories.
The season 2003-2004 was the best. We won the league without any defeats. We got the record by winning 49 consecutive games and we still hold it.
Why did you leave Arsenal?
My contract was about to end and Villarreal wanted me. I wanted to try another league and another country. I had already played in France and in England and I wanted to play in Spain.
I have family there (his mother is Spanish) and I wanted to play there. Wenger tried to convince me to stay but it was important for me to take another direction. After six years in England I wanted a change.
Why did you move from Marseille to Arsenal?
In 2000 I was really close to sign for Real Madrid. I was in Belgium, playing the European Championship. I even took a picture with the Real Madrid shirt because all the parties thought that it was a done deal.
But Wenger called me several times and convinced me to sign for Arsenal instead. They were two very good teams, I had to choose and I chose Arsenal.
What do you do at the moment?
I'm living in London and I train daily with Arsenal. I'm probably going to go to play in India next September, to try their League for four months.
Would you like to be a coach in the future?
A year ago I said that I did not want to coach. Now I have changed my mind. I have the itch to be a manager. Indeed, I'm currently trying to get the paperwork to coach.
And would you like to be Wenger's assistant or even his future replacement?
Sure, Working as Wenger's assistant would be my dream.Training with Wenger is a good opportunity to learn. In the future you never know if I can be the Arsenal manager. I have not spoken to him about that because he has recently appointed another former Arsenal star, Steve Bould to assist him, but for me it would be great.
Coaching with Wenger is a good opportunity to learn. In the future you never know [if I can be the Arsenal manager].
Do you think Wenger will stay at Arsenal next season?
Hopefully he will sign a new deal to stay. I think he will do it.
Even if he fails to win any titles?
He still can win titles this season but anyway I believe the most important thing for him is to qualify for the Champions League.
Failure to win a title this season would be a disappointment?
It would be a disappointment for the fans. Because if you look at the FA Cup and, with all due respect to Wigan, Arsenal have a very good chance to win. When you play for Arsenal you have to try to win all competitions.
And the Champions League defeat to Bayern must have been a blow...

When you play against Bayern you know that it is going to be very difficult. They are one of the best sides around Europe. Arsenal always have bad luck, or they play against Bayern or against Barcelona...
But how do you explain a nine-year title drought?
They are playing in the Premier League. It is the most difficult league in the world. In Spain and Germany, there are only two teams in the race for the title and in Italy and France just one. In England five or six teams can win. Staying at the top from August to May is very difficult.
But you got it. What did Wenger do to convince you all that you can win the Premier League?
Now probably they don't have that winner's spirit that we had. But also the players are different. Wenger played with 4-4-2 and that was his best formula but he can not play with this system now. He has a good squad, but the Premier League is very complicated.
Who are your favourites to win the Premier League?
For me Arsenal (before the Chelsea defeat) because it is my team, but Liverpool are the most dangerous rival. But we cannot forget Manchester City or Chelsea. City are really good and I know Pellegrini well [they were together at Villarreal]. If they win the games that they have in hand I think they will win the League.
And Chelsea do not play well, but they win. It's Mourinho's signature. When you're a coach, the most important thing is to win and he gets that.
Would you like to have a manager like Mourinho at Arsenal?
Mourinho could train anyone. He is great. He has won in all countries and in all leagues. But while Arsenal Wenger wants to stay at Arsenal he will stay.
Do you think that Wenger made a mistake by not signing more players in January?
Wenger tried to sign some players like Draxler. He didn't make a mistake. He tried to do it but he couldn't. He already tried to sign more players in summer like Suarez and Higuain but if the players don't want to sign it's not Wenger's fault. And in the case of Morata I believe that Real Madrid did not want to sell him. That's not the fault of Wenger either.
Who is Arsenal's current leader?
Cazorla. He is the leader.
Even ahead of Ozil?
I know Cazorla well and at the moment he is at the same level at Ozil. He has a lot of quality. But Ozil is also great. I train regularly with him and he is very good. He has a lot of quality, his pass is amazing. He is currently struggling for physical reasons. I also had that drop of level when I moved from Marseille. The Premier League is very different. You have to play many games in December and January and Ozil was not used to play so many games. But he is very good.
But is he really worth £45m?
The rice is not a big deal. Those are presidents' issues. We cannot say how much he is worth. Madrid gave him a price and Arsenal agreed to pay because they thought it was a good deal.
And don't you think that Arsenal needed a striker rather than Ozil last summer?
Wenger knew that he needed a striker and he tried to get one until the very end. It was the priority but no one wanted to come to Arsenal. He tried to sign Luis Suarez and Higuain, and I am not sure but I think he also tried to sign Rooney. They didn't want to come and suddenly came the opportunity to sign Ozil and he did it.
Who would you sign next summer?
For me signing a striker to help Giroud is the top priority for the summer. I think Wenger will try to sign a striker.
Even ahead of Draxler?
Yes, we have Cazorla, Podolski... in Draxler's position. I do not know him [Draxler] so well, I've only seen him on TV and he looks good. But I think that paying Draxler's release clause is too much.
Arsenal have also been linked with Diego Costa and Morata, do you like any of them?
Signing Diego Costa would be great news. I love Benzema, but I know that his signing is just a dream, because it is impossible to lure him from Real Madrid. If Wenger has two forwards he can even play with both up-front. Liverpool do that with Luis Suarez or Sturridge and when I played we use to play with Henry and Bergkamp up-front.
Considering Costa's release clause is £32 and Draxler is £37m, who do you prefer?
If those are the prices there is no doubt. I would sign Costa. But this is just my opinion. I don't speak about transfers with Wenger and the Arsenal officials.
Your compatriot Griezmann is excelling in La Liga and he has also been linked with Arsenal. What do you think about him?
He has the perfect profile to play for Arsenal. He is a great player. I follow La Liga weekly and I like him a lot.
Who are the best youngsters at Arsenal?
Some Arsenal youngsters have a very bright future but for me the one that will be really good is Oxlade Chamberlain. I watched him playing against Bayern Munich, in the Champions League, and he was brilliant. I liked him a lot. If Wenger stays at Arsenal he will grow more and he will be a great player. I also like Gnabry. He is very good too.
And Sanogo?
He is is good but he has hasn't had many chances this season. He is still young, if he starts to play more I really think that he can be a good striker.