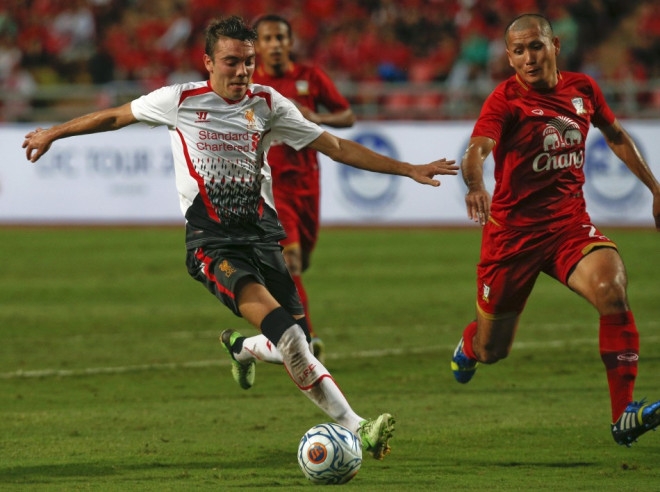 Liverpool summer signing Iago Aspas has granted an exclusive interview to IBTimes UK, talking about his struggle for a regular starting place, his future, the secret of Liverpool's success and Brendan Rodgers.
How do you explain that liverpool were seventh last year and now lead the Premier League?
For me last year, having not qualified even for the Europa League, was a failure. A club like Liverpool, who have five Champions Leagues and are considered one of the best clubs in Europe, always have to play in Europe. This year we are meeting the expectations, we are fighting for the league and qualification for the Champions League is almost assured.
Have you started to believe that you can win the title?
Liverpool are not a club built to win the league [this year] but a team for the long term, as we have many young players in the squad. But it's true that the finishing line of the league is getting closer.
Which is Liverpool secret?
Luis Suarez.
Even ahead of Gerrard?
Yes, if Suarez wakes up well we can beat anyone. He is at the same level as Messi and Cristiano Ronado, especially considering what he brings to Liverpool and how he intimidates the rivals.
You know La Liga, do you think this Liverpool could win the Spanish title?
Yes, maybe. Especially because we have been a fairly regular team. But perhaps Real Madrid, Barcelona or Atletico Madrid are still just a step above.
What is Brendan Rodgers like?
He is a young coach with Spanish philosophy. I was used to train with Eusebio (Barcelona B coach) and Paco Herrera at Celta and the training sessions are almost equal. Maybe a little more physical but Rodgers also likes dealing with the ball and working on possession. Indeed two days a week we do 'rondos' (a popular Barcelona training method which consists of passing the ball between each other with just one touch in a circle) like Barcelona.
Has he explained your lack of minutes?
Yes, he always encouraged me, especially in training and in matches when I play just 10 minutes. He said that he undersands my situation but that he cannot do anything when he has two strikers who have scored 50 goals. I hurts but I also understand that. If I were in their situation [Suarez and Sturridge] it would bother me to be replaced when they deserve to play.
And why do you think you are not playing more?
My colleagues are playing great (Luis Suarez and Daniel Sturridge) but I think the boss could give more minutes to the substitutes, especially when we are winning 3-0. We are playing three games a week and sometimes I don't understand that the strikers play all three games for the entire 90 minutes when there are other players. I don't understand why he (Rodgers) made so few changes. For example, when we are winning 5-0 against Tottenham you think 'make a change' because he still has the option to make three changes.
Who do you think you can replace in the line-up?
My dispute is with Sturridge, Luis Suarez at in another level. I started the preseason very well, playing as a number nine, but during the season I began to play as a playmaker, where I don't feel comfortable. I think that is what has stopped me showing my potential. The only game that I have played as a number nine this season, in the FA Cup (against Oldham) I scored. In the rest of the games I have not played up front and this is very difficult. Where I exploded in the last two, three years at Celta was as a striker. I scored around 45, 50 goals. The Premier League is very physical, I get the ball in the playmaker position and the defenders and midfielders do not stop. It is not if I play as a number nine, where I have space to run.
When you signed in summer, did Rodgers tell you that you would play as a number nine, or behind the striker?
Rodgers signed me to play all around up front because in summer we didn't have a fixed system, but I made it clear that where I feel comfortable is playing as a striker. I was the top scorer in the preseason in that position, when Suarez was still on holidays and Sturridge injured.
You had some other offers, why did you choose Liverpool?
Valencia could not pay those amounts. I've always said that the Spanish League fits more with my style but Celta and Valencia could not reach an agreement. I had several options but Liverpool pushed for me and that encouraged me to come here. I had more offers from several English clubs but I prefer not to give their names.
In your current situation, do you enjoy the success of Liverpool?
I'm sad when I go home, with my family, but in the dressing room I'm a winner. I always want to play but what what I want more is to win, even if I am not playing.
Would you accept another season in the same situation?
Not really. I will talk to the club at the end of the season and, if the situation remains like this, I think that for both the club and for me the best outcome is an exit. Because they also paid €9 million for me...
Next season with Liverpool playing Champions League, maybe you will have more chances. May it affect your decision?
This year there have also been two cups (FA Cup and Capital One Cup) and the minutes that I have had have been limited.
Recently some media outlets reported that you would only consider a sale, rather than a loan. Is it true?
I was asked if I would go on loan to another club to progress. And I said I do not have 20 years to progress and prove that I can came back. If Liverpool want to send me on loan it would be to get more minutes, but not because I have to excel abroad to come back. Because I'm not 20 years old anymore. But when the time comes we will see what is the best for both parties. Everything depends on what the club wants at the end of the season. Now we are just focused on the Premier League and we cannot be thinking about individual aspects.
You had offers to move away in January. Why did you decide to stay?
Some clubs called my agent and my brother to see what Liverpool thought, but the club said they were very happy with me. They signed me for four years and they did not want to part with me. And I didn't consider it either. I had been living here just four or five months. And I had had an injury for a month and a half that stopped me. But maybe it would have been good to leave, considering that since January I have only played 15 minutes so far.
Your friend Michu wanted you to join him at Swansea, right?
Yes, I played with him for three seasons at Celta and in January he sent me messages to go there. We talk a lot.
Do you regret having signed for Liverpool at all?
No, a player is selfish and wants to play. Sometimes my partner sees that I am not happy at all and last season I was, but even though these things come to mind I am a fighter and a winner, and every morning I wake up with renewed power to come to train.
How is your friend Luis Alberto dealing with the same situation?
He is disappointed. He has gone seven or eight matchdays without being summoned. But he's young, before coming here he had played just one or two games in the top flight. But he comes here for the long-term, it is not like me, that I am 26.
Is he planning to move away?
I don't know but I think that he will not want to continue living in this situation every game in the stands.
You also have Jose Enrique and next year Pepe Reina may return. Would you like him to?
Yes, they say that he is very funny and a very good person. He is the typical guy from Andalucia, who loves making jokes and he is a great goalkeeper.
And what about Suso?
He wanted to leave last summer to play more but some mates in the dressing room said that he would have played here. He went to Almeria and he is doing very well.
Do you still watch La Liga? Reports claimed that Rodgers is tracking some players there like Rakitic, Parejo, Bernad... Which La Liga players would you like to have at Liverpool?
I watch almost every game. And any Real Madrid or Barcelona players will be welcome! Rakitic would fit very well here because his style of play is the one that we have here at the club.
You were close to the Spanish national team in the past. Are you still dreaming about that?
It is true that this year has put me back. But I was close when I was at Celta and when Liverpool signed me. I hope to change my situation and someday take the call. Things change. Look at Negredo, he was not in the Euros and can now go to the World Cup.
Torres, Michu, Soldado, Negredo... which striker do you think will finally go?
I wish Michu but he is struggling with an injury. I think Diego Costa and Llorente will go. Llorente is currently doing better than Negredo and Soldado. Torres has been one of my idols but I do not believe he can go.
Did you have any other idols?
Yes, Ronaldo. In the last 20 metres there has never been anyone like him.