The release of Spy Files by Wikileaks is just the first stage of tackling the global problem of civilian surveillance, Privacy International founder Simon Davies told International Business Times.
Davies told IBTimes UK the second stage of holding surveillance companies to account will begin in the first quarter of 2012 and involve courts and parliaments globally.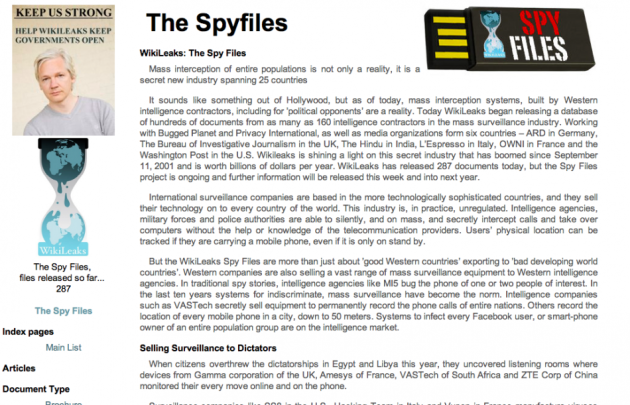 "The key emerging question for us is where to take the issue next. We're adamant that the next stage has to be much more assertive and dynamic, it will involve directly with courts, parliaments and the companies themselves. It was important to tell the public," Davies told IBTimes.
Wikileaks released 287 documents Thursday that apparently detail widespread surveillance of civilians by governments and how smartphones such as iPhones and BlackBerrys can be bugged, tracked and used without user awareness.
Wikileaks founder Julian Assange told journalists surveillance companies are able to record private phone calls and operate a smartphone's camera and microphone remotely.
Davies, who began work on uncovering surveillance companies more than 15 years ago, added: "The second stage will emerge over the next few weeks and, while the industry will not sit idly by, we will fight back; we have to be creative and quite dogged in our approach."
Privacy International began its investigations 15 years ago, but it wasn't until earlier this year that an employee infiltrated trade shows where companies producing tracking and phone tapping equipment sold their products. The earlier investigations met a dead end when it was not pursued by the authorities.
Now Privacy International, along with Wikileaks and others, wants to expose companies that produce the surveillance equipment and make governments introduce laws and regulations that will limit their use.
Wikileaks published a list of 160 companies involved in the production of surveillance equipment, but Privacy International told IBTimes UK: "There are many more that aren't on the list, including companies in South Africa, Israel and Russia."
Assange said this week owners of iPhones and BlackBerrys are "screwed", claiming that "intelligence contractors are selling right now to countries across the world mass surveillance systems for all those products."
On the topic of consumer technology companies and security Davies said: "Technology companies have prioritized security, but only for what the average consumer might be concerned about in an environment like America that has rules governing privacy. But very few tech companies have looked at places such as Syria, Iran and Russia where the law is non-existent. The tech companies need to do more."
Privacy International is now planning a strategic and engaging campaign at a public level. Previously the group has aimed at governments first, but it is hoping that by involving the public through Wikileaks, governments are more likely to listen and introduce laws and regulations governing surveillance.