Zimbabwe is reeling following recent political developments that suggest long-standing President Robert Mugabe is being deposed.
The southern African country has been experiencing rising tensions after Mugabe sacked vice-President Emmerson Mnangagwa, prompting condemnation by the country's military chief.
After seizing the country's state broadcaster ZBC, the army denied in a televised speech on 15 November that a coup was ongoing and said it was targeting "criminals around [Mugabe] who are committing crimes that are causing social and economic suffering in the country, in order to bring them to justice".
Although military spokesperson, Major General SB Moyo, claimed that "Mugabe and his family are safe and sound and their security is guaranteed", the Mugabe family's whereabouts are not clear.
Unconfirmed reports suggest the family might be under house arrest in their home in Harare.
Sky News quoted unnamed sources saying First Lady Grace Mugabe fled the country for Namibia.
South Africa's President Jacob Zuma said in a statement that he spoke with Mugabe on Wednesday morning (15 November). Mugabe reportedly said he was confined to his home, but was fine.
Speaking in his capacity as Chair of Southern African Development Community (SADC), Zuma added he was sending ministers to Zimbabwe and Angola "in light of the unfolding situation".
Will Mugabe stand down?
Mugabe has been Zimbabwe's head of state since 1987. The leader – known for his hard stance against the West – has been facing calls to resign due to economic hardship in the country, one of the poorest in Africa.
The 93-year-old head of state has been consistently slammed for his poor record of human rights and alleged corruption.
Yet, some analysts agree that the Mugabe is still respected by the country's war veterans and leaders across the region.
"Mugabe remains an important figure and retains a great deal of respect among veterans of the liberation war. Ultimately those are the people who are now in charge of the security apparatus," Nick Branson, Senior Researcher at London-based Africa Research Institute, told IBTimes UK.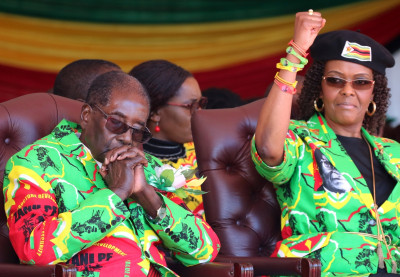 With no reports of violence – and witnesses' claims that Harare remains calm, in spite of heavy military presence in the capital – a peaceful transfer of power seems the most likely option.
Branson believes that Mugabe will publicly announce a transfer of power to Mnangagwa, who according to IBTimes UK sources is back in the country and could be soon appointed as the interim president. Mnangagwa would first need to be reinstated as vice-President, before Mugabe could hand power to him.
75-year-old Mnangagwa has strong support from within the military.
On the contrary, Grace Mugabe, whose political promincene has increased in recent years, is rather unpopular.
The First Lady was recently "booed at some rallies, where Mnangagwa was cheered instead," Branson said.
"I don't think they are going to do anything to rush Mugabe in his decision-making, but he will eventually stand down allowing the constitutional mechanism to kick in," he continued.
Security analyst David Otto also believes that a peaceful transfer of power is the most likely solution, given the army's seemingly lack of interest in "long-term military rule".
"If all goes as planned, there would likely be a swift transition period with the sacked Mnangagwa likely to be the interim President, while Zimbabwe prepares for a democratic election," he told IBTimes UK.
"ZANU PF, which has been the main political party for over 30 years, will experience a massive shake up from the bottom top."
Will Mugabe remain in Zimbabwe?
Although reports of Grace Mugabe's fleeing the country could not be confirmed, the Mugabe family could relocate to other nations – particularly South Africa – should they offer protection to the family.
"Mugabe might prefer going to Singapore, where he spends a quarter of the year anyway," Branson continued. 93-year-old Mugabe has frequently visited Singapore in recent years for medical treatment.
Will Mugabe be tried?
In spite of allegations of human rights abuses, it seems unlikely that the leader will be tried anytime soon.
"There is not some immediate rush to try and get Mugabe in front of a tribunal – far from it," Branson said.
Security analyst David Otto believes that Mugabe might be "on the radar of the International Criminal Court (ICC)". However, given the man's age and poor health, some kind of prosecution will be "unlikely" to happen.
"Like many states that are skeptics of the ICC agenda, Zimbabwe did not ratify the Rome Statute. The arms of the ICC will be short, but domestic law may come in to hunt Mugabe's right-hand men and perhaps his wife who have been accused of playing significant roles in dragging the country into the current state," he continued.