Soldiers 'take over Zimbabwe's state broadcaster' as explosions heard in Harare
Military chief warned the army may step in.
Troops in Zimbabwe's capital Harare have reportedly seized the country's state broadcaster ZBC and loud explosions have been heard in the city, prompting further speculation of a coup.
Hours earlier, the head of the armed forces, General Constantino Chiwenga, has demanded an end to a purge in the ruling Zanu-PF party.
President Robert Mugabe has fired his deputy Emmerson Mnangangwa, 75, who was seen as a potential successor, in a move seen to pave the way for the president's wife, Grace, 52, to take over.
Witnesses told news agencies that saw military vehicles heading towards the capital. Reuters said another two military vehicles were parked 20 miles (32km) from Harare.
Reuters reported that staff at ZBC were manhandled when soldiers took over their offices on Tuesday evening (14 November).
Chiwenga said: "We must remind those behind the current treacherous shenanigans that, when it comes to matters of protecting our revolution, the military will not hesitate to step in.
"The current purging ... targeting members of the party with a liberation background must stop forthwith," he said, according to Sky News.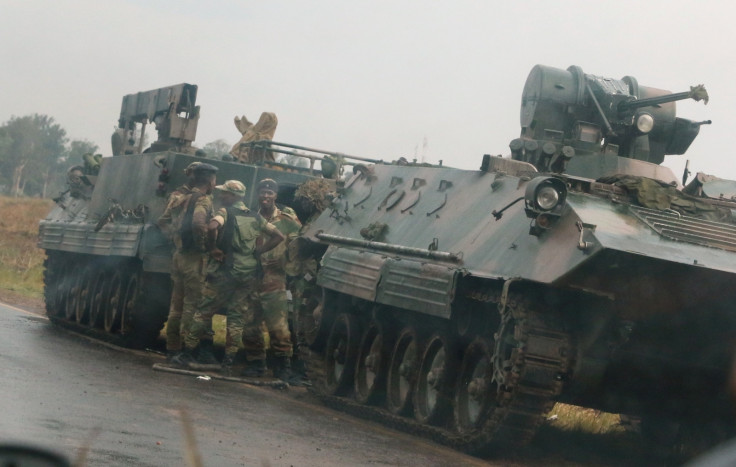 But the Zanu-PF party said Chiwenga's comments were intended to "incite insurrection" and that it "reaffirms the primacy of politics over the gun" and accused him of "treasonable conduct".
The leader of Zanu-PF's youth wing, Kudzai Chipanga, told reporters: "It is our country and future at stake and we will not let any individual military man interfere with the leader of the party and legitimately voted president of this country."
President Mugabe, 93, nor his representatives have commented on the latest developments.
The Zimbabwean ambassador to South Africa, Isaac Moyo, told Reuters that his government was "intact" and dismissed speculation of a coup as "social media claims".
Mugabe has ruled for 37 years but has recently fired veterans of the liberation struggle from party posts, leaving the top of Zanu-PF full of officials who did not fight in the country's independence war.