Grace Mugabe, the luxury-loving second wife of Zimbabwe President Robert Mugabe, has emerged as a polarising figure in the country over the years.
Her love for expensive fashion articles and lavish lifestyle have earned her the name "Gucci Grace" and is also often described as "the Trump of Zimbabwe" by political activists.
Media reports have previously claimed that the first lady had political ambitions, but following the sudden removal of vice president Emmerson Mnangangwa a week ago, she is being seen as the front-runner in the race to become the president's deputy.
Mnangangwa's departure has led to a military campaign in the country on Wednesday (15 November) morning. Under General Constantine Chiwenga of the Zimbabwean Army, military personnel have taken over the state broadcaster ZBC, stating they were trying to "pacify" the current political crisis. Chiwenga is a close ally of the sacked vice president, who himself is a war veteran.
Grace Mugabe, on the other hand, has earned a significant backing from some political parties in the recent past, with her strongest support coming from the Zanu PF women's league ,which she leads, and the youth league.
Grace herself has not reportedly commented on the possibility of her becoming the vice president, nor has she rejected claims that she desires to succeed her husband. However, she had said earlier that her husband "is the president and I'm the president's wife. I'm a woman, so why can't I be the vice president? Am I not a child of Zimbabwe?"
Grace Mugabe and controversies surrounding her
Born in Benoni, South Africa in July 1965, Grace became the first lady of Zimbabwe following her marriage to the president in 1996. The 52-year-old was previously married to Stanley Goreraza, an air force pilot with whom she had a son, named Russell Goreraza.
Grace is the second wife of Robert Mugabe, who was earlier married to Sally Hayfron, who died in 1992 of chronic kidney disease.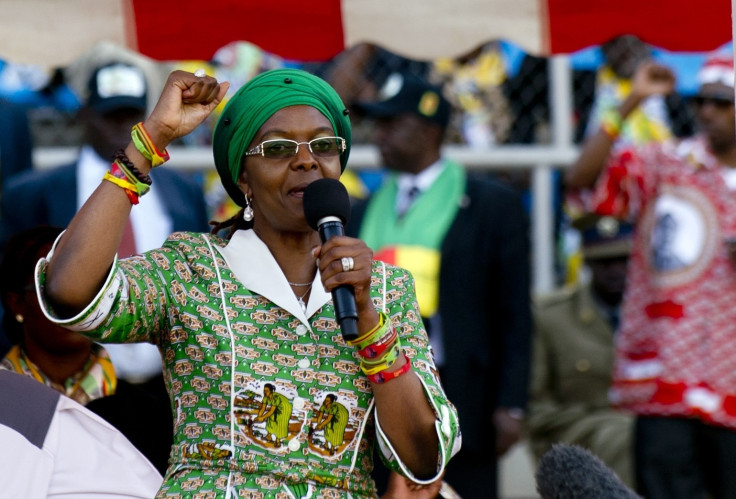 Grace was working as a secretary to the president before their marriage and had a secret relationship with Mugabe. She also bore to children, Bona and Robert Peter Jr., while still being married to Goreraza.
She is the leader of the women's wing of the ruling Zanu-PF party and is almost a constant presence in Mugabe's public outings, including political rallies, travels, and national celebrations.
Grace as the first lady has been embroiled in many controversies, most of which were linked to her lavish lifestyle.
She faced a lot of criticism for overseeing the construction of two luxury mansions and was accused of spending £4m on one of those built in South Africa. Citizens in the country are banned from taking any more than £1,800 ($2,365) in cash out of the country.
She was also said to have spent around $26m on another palace, which was completed in 2007 and was allegedly funded by the ZANU-PF party to thank the president for his political service.
Grace's name also appeared in another controversy involving illegal diamond trade. A report released by WikiLeaks in 2010 alleged that she was generating millions of dollars in personal income by hiring teams of diggers to hand-extract diamonds from the Chiadzwa mine in eastern Zimbabwe.
Grace, however, refuted the allegations and sued a Zimbabwean newspaper that reported the WikiLeaks claims. She reportedly demanded $15m from the Standard newspaper.
The Daily Telegraph once described Grace as "notorious at home for her profligacy" with regard to her shopping sprees led to the withdrawal of more than £5m from the Central Bank of Zimbabwe in the early 2000s.
Her critics have giver her names like, "Gucci Grace", "the First Shopper" and "DisGrace" over her fondness for luxury living while most of the nation lives in poverty.
Controversies involving Grace became stronger in 2014 when she was awarded a doctoral degree in sociology in September that year by the University of Zimbabwe, just two months after enrolling for the programme. It was later discovered that her doctoral thesis was not available in the University archive. There were calls for her to return the PhD.
The first lady made headlines again after she allegedly assaulted model Gabriella Engels on 13 August. She purportedly used an extension cord to beat Engels while her bodyguards looked on after she allegedly found her with one of her two sons, Bellarmine Chatunga, at a Johannesburg hotel.