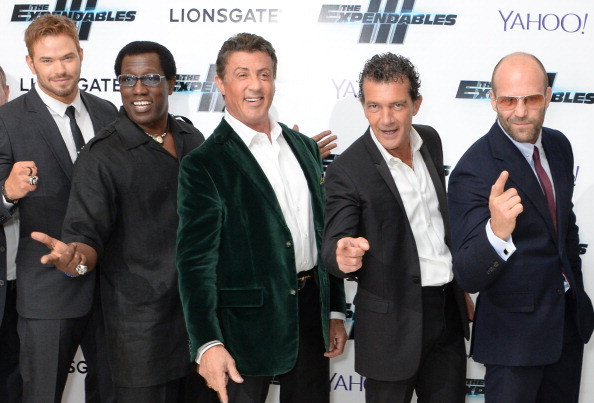 Calling Expendables 3 a star-studded film would be an understatement – but looks like the film's star Sylvester Stallone doesn't quite agree.
Reportedly, the Rocky actor teased more big names like Pierce Brosnan, Jackie Chan, and Hulk Hogan for the fourth movie, reports Enstars.
Speaking with The Toronto Sun, the cast talked about their experiences on set and working with so many action legends.
Mel Gibson joked that he wasn't sure who was playing the villain in the movie until he saw the final product. "When I first got the script I didn't read it so that I was the bad guy," Gibson said.
"I didn't know I was the bad guy until I saw it last night. I thought Dolph Lundgren was the bad guy. So it was a surprise to me. And I'm kind of shocked and a little offended."
Wesley Snipes seemed quite grateful to be a part of the ensemble cast. "It was a great opportunity to work with some of the actors that I'd always admired," he said. "Also there was the chance to act a little crazy in this one. Doc is a medic but he's been away for about eight years and he was quite lonely and spent a lot of time talking to himself, so he comes back cuckoo."
Kelsey Grammer talked about the surprise of getting to do a role in the movie after not being directly linked with many action movies beforehand.
"I know that at first there was sort of a surprise that Kelsey Grammer would be on this ride," Grammer said. "But I'm a lot tougher than people think. If you know anything about my personal life, you'd realize that."
The Expendables 3 opens in theatres on August 15.