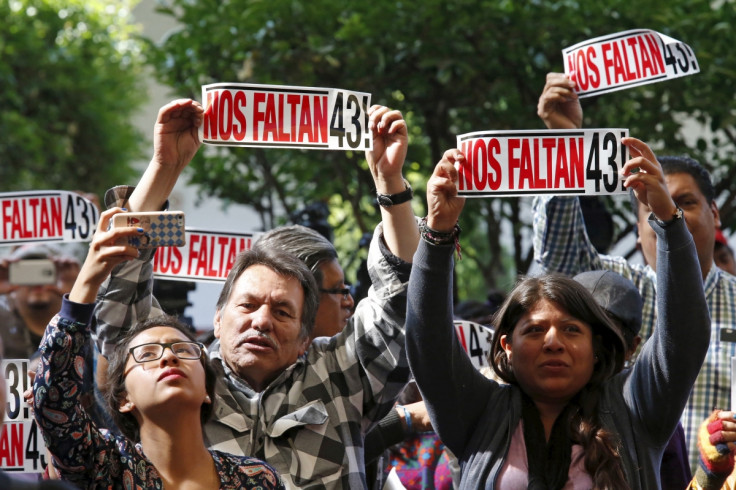 An international panel of experts has criticised the Mexican government's handling of the haunting disappearance of 43 students, saying that the administration attempted to impede its inquiry. The report, published after a two-year investigation, was carried out by the Inter-American Commission on Human Rights (IACHR) following a request from the victims' next of kin.
The group of experts said that security personnel, including police and soldiers, had real-time information on the whereabouts of the students on the night of the kidnappings. The report also alleged that at least 17 people, out of 110 suspects, in connection with the case were tortured by authorities to tow along the government's account of events.
"The delays in obtaining evidence that could be used to figure out possible lines of investigation translates into a decision (to allow) impunity," the panel said as the report was released amid a packed audience of students' relatives, activists and members of rights groups.
The report read: "The group has suffered a campaign trying to discredit people as a way to question their work. Certain sectors are not interested in the truth."
The conclusion of the government's probe – hailed as "historic truth" by the administration – was also dismissed by group. The Mexican government concluded that the students were kidnapped by rogue police officers and then handed over to local drug groups, but this has been staunchly contested.
"In a context of strong polarisation in Mexico, the [team] has become an object utilised by some to generate greater polarization," the report read.
It also questioned inconsistencies in the government's inquiry and forensic evidence provided by security agencies. It also found that one of the students, who was claimed to have been killed, had sent a text message from his mobile to his parents, hours after his death. Even as it was known that some corrupt police officers were involved in the abductions, the international panel of experts suggested that a larger role had been played by the federal police in the matter. The investigators said the killings appeared to be a coordinated effort of multiple agencies.