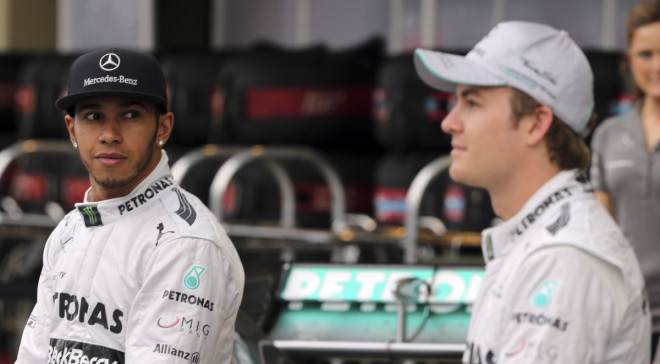 Nico Rosberg is preparing for a season-long rivalry with Mercedes team-mate Lewis Hamilton for the Formula 1 world drivers' championship.
After Rosberg claimed victory in the first race of the season in Australia, Hamilton responded by converting pole position to claim his maiden win of the year in Malaysia and the Silver Arrows duo lie at the top of the championship standings after the first two races.
And Rosberg says he is braced for Hamilton to be his main competition for the title, a rivalry which repeats battles during their karting childhood.
"At the moment it hasn't changed at all," Rosberg said.
"Maybe because we are not thinking about championship yet and we're taking it race by race, making the most of what we have and winning races. It's early days. But of course I understand it could change if we are still in a similar position.
"We've been in this position before. In go-karts we were fighting for the championship there, and it's exactly the same, but with a little bit more people around and more media and spectators.
"We managed to get through there with respect and I'm confident we are going to be able to manage in any circumstance.
"I'm sure there will be tough times inevitably, but I'm confident we can work through it now and move on. Lewis won that kart championship, so it's my turn now."
With significant rules changes ahead of the 2014 season leaving Red Bull struggling at the start of the campaign, Mercedes have the opportunity to make early head-way on both the drivers' and constructors' title.
The close race for the title within the Mercedes garage risks potential infighting within the team similar to that which affected the relationship between Sebastian Vettel and Mark Webber at Red Bull, with the Australian accusing the four-time world champion of receiving preferential treatment.
But after finishing second in Malaysia, Rosberg has no such complaints as yet.
"There's been a big analysis of what happened," he added. "Of course, I want to win, I don't want to be second because second is the first loser. I don't want to be a loser.
We've reviewed everything and gone into a lot of detail and learnt a lot. I've had a long sit down with everybody.
There's things on my side that I can do better and then there's some things going on we don't understand, some very strange things happening where we think, 'woa, what's going on there', like on tyre temperatures for example. That's a group effort and we will step it up again."