F1 2015: Lewis Hamilton calls on teams to hire better people to close the gap on Mercedes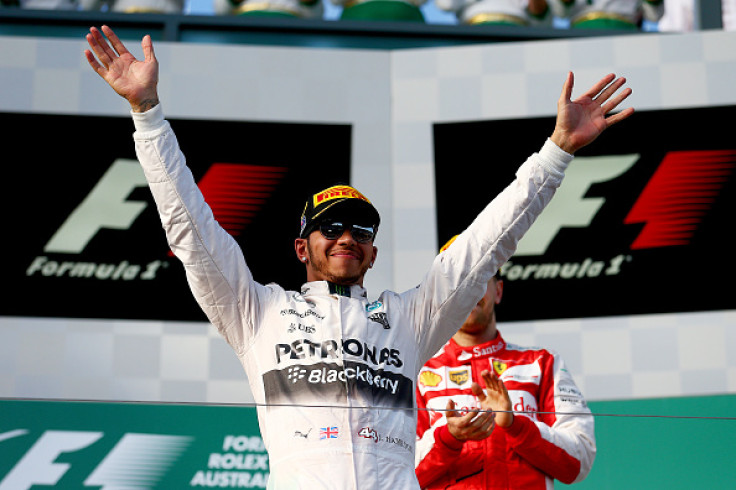 Mercedes driver Lewis Hamilton has called for teams to "hire" better people to get closer to the 2014 constructors champions.
The Briton cruised to a dominating win at the season-opening Australian Grand Prix and started his title defence in style. The Mercedes cars continued their dominance from last season and may have even increased the advantage after they finished 30 seconds ahead of the next best car, which was Sebastian Vettel in a Ferrari.
This has led the Red Bull Racing team, who are currently struggling with their Renault power units, to criticise the new rules and regulations and threatened to quit the sport if there is no progress. RBR's team principle Christian Horner has called on the FIA to intervene and reign in the Brackley-based team, so that the racing gets more competitive.
However, the Mercedes team have not been impressed with the complaints and have called on the teams to step up and work harder instead of complaining.
Special focus was on team Red Bull, since they did not complain when they dominated the sport for four years prior to the rule changes and termed it as sour grapes when other teams did.
The 2014 F1 world champion was surprised when informed of Red Bull's stance, and has called on the team to hire better people and push harder to perform at par with Mercedes. The former McLaren driver cited Ferrari as an example as to how a team can move forward after the Maranello based team's impressive showing in the first race.
"It's very interesting to hear that when they dominated for four years, big time. They've not had a good couple of years - they didn't do so bad last year," Hamilton said, as quoted by the Daily Mail.
"But you've seen a real big improvement from Ferrari, they've actually overtaken Red Bull and Williams have made a really big step and I think you're going to have to watch them really closely this year."
"There's a lot of potential, particularly in the rules for them to make big steps and close the gap. So we still have a fight on our hands," the two-time F1 world champion explained.
"It's not for us...So you've got to hire some better people I guess. Ultimately it's a test and a challenge of evolution, of innovation and we've hired great people to - and we've done a great job and we weren't complaining when they were doing," Hamilton concluded.
© Copyright IBTimes 2023. All rights reserved.