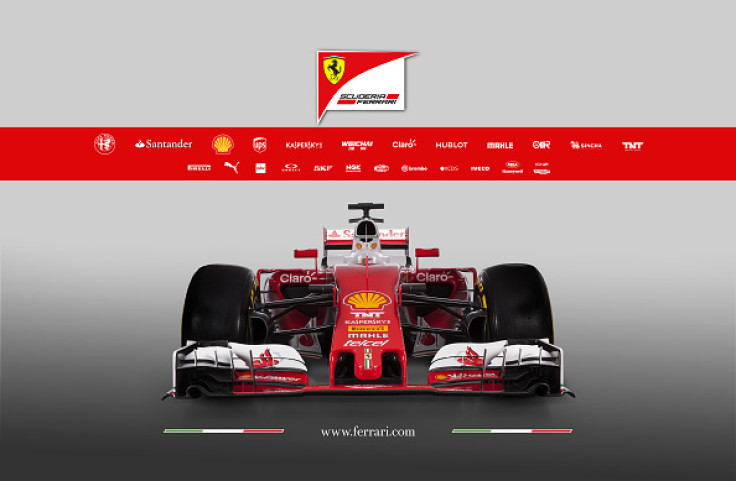 Ferrari have launched their car for the 2016 F1 season, the SF16-H, as they aim to challenge the dominant Mercedes team for the title. The Maranello-based team has made major changes to their car compared to last year, with the main differences being the front nose, the front suspension and the rear of the car.
The nose is considerably shorter, unlike last season's challenger, and is more like the Williams, which was also launched on Friday (19 February). They have also reverted to the push-rod front suspension unlike the pull-rod, which they used for the last four seasons. Their solution now matches the rest of the grid. Finally, the rear of the car looks more tightly packaged after they made changes to the power unit and engine recovery system.
"The project of this car started a year ago and our goals were very ambitious. The first change is the nose and then the front suspension, also sidepods and also the rear end. The nose is higher and the air flow is quite different. This solution is slightly different to last year." Ferrari technical chief Simone Resta said, as quoted by Sky Sports.
"The car is tighter and narrower than last year. We tried to improve combustion and the turbo. This is a step forward from the past and we made very innovative choices," he added.
Sebastian Vettel gave his approval to the car, and has admitted that he cannot wait to take out onto the track when testing begins on 22 February at the Circuit de Catalunya in Barcelona.
"First of all it looks beautiful. There has been a lot of work going on and it's been very, very exciting times. We have to wait until we go on the track, but it should be a decent step up," the four-time World champion said, as quoted on Sky Sports.
Technical director James Allison, who has been involved in the entire process of building the car for the first time since his return to Ferrari from Lotus, was excited and admitted that he cannot wait to take it 'racing'.
"We know Mercedes were very strong last year, the year before. But we have put nearly 1,000 man years into this car and we have done our best to make this one a bold step forward and ensure this one is a proper winning car," Allison said at the launch of the SF16-H.