There was some cheer for the McLarens after the first Free Practice session at the Hockenheimring in Germany, ahead of the weekend's Formula 1 German Grand Prix. The Woking-based team has faced a lot of criticism in the past few weeks, particularly since disappointing displays in the last two races (at Valencia and Silverstone) have led to both Lewis Hamilton and Jenson Button questioning the team's ability to give them race-winning cars.
However, the euphoria from the morning session quickly evapourated after the heavens opened during the second session. The rain caught several leading drivers and teams, including Ferrari and Mercedes' Michael Schumacher and the McLaren of Lewis Hamilton out. The result was a decidedly topsy-turvy final timesheet, with the likes of Toro Rosso's Daniel Ricciardo beating the Red Bull of Mark Webber and the Lotus of Kimi Raikkonen.
McLarens in Command after First Free Practice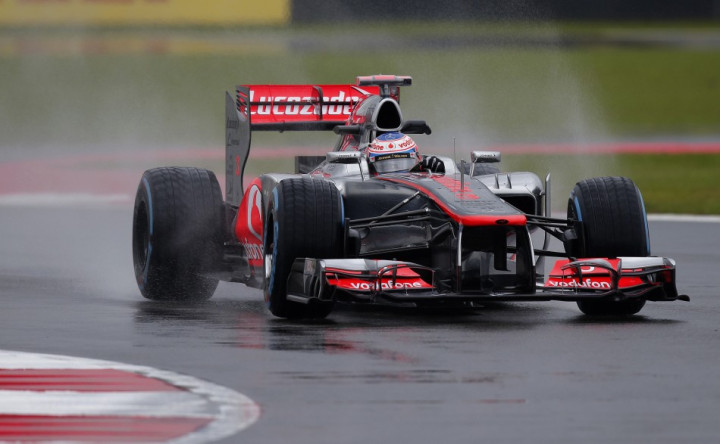 Aided by a wet-dry first session and performance upgrades courtesy of bodywork changes to the MP4-27, Button and Hamilton stormed to first and second places after first practice at Hockenheim. Button, the 2009 world champion with Mercedes, led the way with a time of 1:16.595, comfortably ahead of team mate Hamilton, whose best time, like everybody else on the grid, was set in the wet. Button's time, an indication of the McLaren's pace in dry conditions, was 0.498s faster than Hamilton, who, in turn, was 0.277s ahead of the Ferrari of Fernando Alonso in third and 0.289s quicker than Michael Schumacher in his Mercedes.
Behind the top four, Sauber, who are also bringing upgrades to this weekend, recorded excellent first session times. Mexican Sergio Perez was fifth with a 1:17.413 and Kamui Kobayashi 11th with 1:18.226, remarkably ahead of defending world champion Sebastian Vettel in his Red Bull, who could only manage a 1:18.339.
Hometown boy Nico Hulkenberg gave the German fans something more to cheer about, complementing Schumacher's third place with a solid sixth in the Force India, recording a 1:17.915 to stay marginally - 0.080s - ahead of the second Ferrari of Felipe Massa. Williams' Pastor Maldonado and Lotus' Romain Grosjean rounded out the top ten, with times of 1:18.020 and 1:18.130 respectively.
The session, however, is unlikely to be a realistic indicator of qualifying and race pace, particularly because of the changing weather conditions. Nevertheless, the fact both Red Bulls finished outside the top ten, albeit in only the first practice session, will be cause for concern for the defending champions.
For a full timesheet for the first Free Practice (FP1) session, click here.
Williams and Mercedes Take Over for Second Practice Session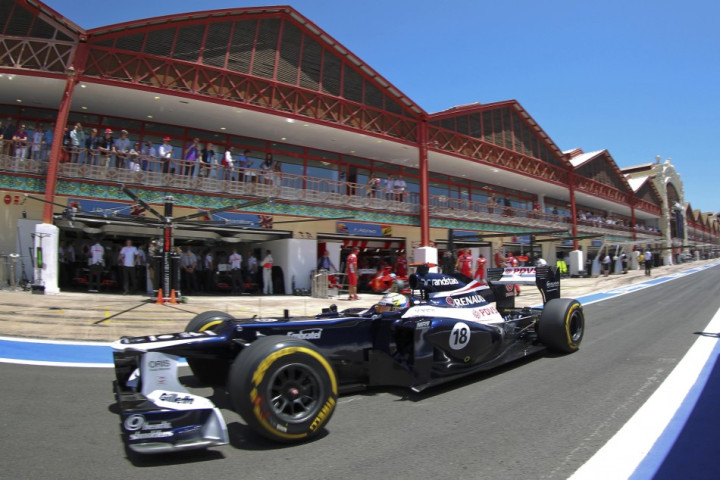 McLaren failed to build on the heroics of the first Free Practice session, ahead of the weekend's German Grand Prix at the Hockenheimring, after both Hamilton and Button were comprehensively out-timed by a host of other challengers. The 90 minute session, which, like the first one, was split between extremely wet and somewhat dry periods, saw Williams' Pastor Maldonado and Mercedes' Nico Rosberg finish the fastest, nearly half a second ahead of Red Bull's Sebastian Vettel.
Maldonado lapped in a time of 1:27.476, mere fractions ahead of Rosberg's 1:27.564. Vettel, meanwhile, was all of 0.426s behind Maldonado. However, it was a huge improvement from his morning finish of 12th fastest. Sauber' Sergio Perez followed up his fifth place from the morning session with a confident 1:28.402 for fourth this time around, keeping Romain Grosjean's Lotus (1:28.420), Nico Hulkenberg's Force India (1:28.495) and Daniel Ricciardo's Toro Rosso (1:28.513) behind him.
The surprises were further down the field, where the likes of Ferrari's Fernando Alonso and Felipe Massa (12th; 1:29.719), Hamilton (19th; 1:30.617) and Vettel's team mate, Mark Webber (9th; 1:28.877), failed to register convincing times. Alonso was left struggling to match weather conditions and it showed. The Spaniard could only manage 20th with a time of 1:31.207. However, that was better than 23rd for seven time former world champion Michael Schumacher. The Mercedes driver, normally a skilled wet weather man, recorded a poor 1:32.777.
Finally, Force India's Nico Hulkenberg continued a strong start to his home race, maintaining his sixth place from morning with a time of 1:28.495. McLaren's Jenson Button finished eighth with a time of 1:28.516 and Lotus' Raikkonen rounded out the top ten with a time of 1:29.327.
For a full timesheet for the second Free Practice (FP2) session, click here.
Stay tuned to IBTimes UK's coverage of the 2012 Formula 1 German Grand Prix, as we continue to bring you race previews, driver quotes and tactical analyses, ahead of the weekend's race!