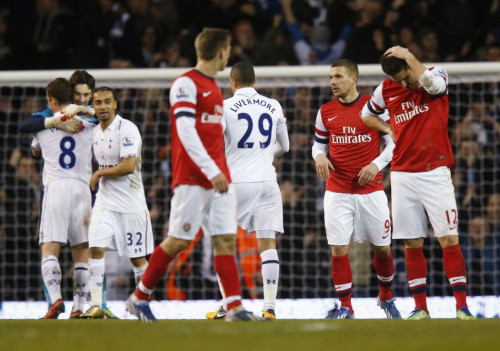 7:07pm: And that's a wrap folks! A 2-0 win to Arsenal and the Gunners progress through to the fourth round of the FA Cup while Tottenham are left to ponder their mistakes.
7:00pm: Just minutes left of normal time and the scoreline doesn't look like changing. If Tottenham can find a goal though tactics will be very different.
6:55pm: Theo Walcott is down after what appears to have been a collision with Danny Rose - the winger is currently being treated... and is stretchered off. Interesting scenes as this takes place, with Walcott signalling 2-0 to Tottenham fans as they throw plastic bottles at him. Meanwhile Gunners supporters throw scarves.
6:52pm: It's penalty appeals galore at the moment with both Tottenham and Arsenal asking for help from Calttenburg but he continues to stay silent. Meanwhile it's the Gunners who are looking more dangerous up front.
6:46pm: Mikel Arteta is taken off for Arsenal in place of Mesut Ozil, as well as taking Jack Wilshere off for Mathieu Flamini. It's hard to see Tottenham coming back from this and the Gunners have the goods on their bench to keep the attacking coming.
6:42pm: Arsenal could have been 3-0 up if referee Mark Clattenburg had allowed a penalty for Nacho Monreal after Kyle Walker looked to shoulder him. But play on is waved.
6:40pm: Nacer Chadli has been put on the pitch in place of Roberto Soldado, who once again has been frustrated in front of goal.
6:34pm: GOAL!! Tomas Rosicky puts Arsenal up 2-0 over Tottenham. It'll be a long way back now for Tim Sherwood. This goal was the direct result of an error by Danny Rose and Rosicky is able to strip him of the ball and get past Kyle Walker to put the ball straight into the back of the net.
6:33pm: Nine shots a piece now for Tottenham and Arsenal and the Gunners have a slight edge for shots on target with three to two.
6:28pm: Spurs are continuing to push ahead as a clear result of Tim Sherwood's orders. They're looking more vulnerable at the back but you'd expect a goal isn't too far off from Tottenham.
6:21pm: Roberto Soldado has been one of Tottenham's standout players in the first half and the Spaniard is back in the mix quickly in this half, with Christian Eriksen also getting in on the action.
6:19pm: And we're off! Arsenal have made one change, taking off Thomas Vermaelen for Per Mertesacker.
6:03pm: It's half-time at the Emirates and Arsenal have a deserved lead over Tottenham. Can Tim Sherwood turn it around?
6:00pm: Not long to go now in the first half and Tottenham will be glad to hear the whistle.
5:56pm: Arsenal are now in the advantage, and are attacking with much venom. Tottenham are keeping a handle on them but are currently one down.
5:50pm: Hugo Lloris had no chance with that one, with Cazorla taking full advantage of some good work from Serge Gnabry and Theo Walcott to shoot straight past the keeper.
5:48pm: GOAL!! Santi Cazorla puts Arsenal 1-0 up against Tottenham.
5:40pm: Arsenal now have six shots on goal compared to Tottenham's five. Both attacking sides are having their turns in trying to break through the opposition defence.
5:36pm: Yellow card for Aaron Ramsey as the Arsenal man takes part in a mis-timed encounter with Mousa Dembele.
5:33pm: Theo Walcott is taking advantage of the lack of strikers available to Wenger and showing off his skills in front of goal. The winger has had a particularly close call so far and could prove to be the key to stopping Tottenham.
5:27pm: Tottenham and Arsenal have now had a shot a piece on target, with the derby starting in typically wild fashion. Christian Eriksen has also been standing out for Spurs so far.
5:21pm: Emmanuel Adebayor gets his first touch early, much to the displeasure of Arsenal fans. But he's unable to get the ball past Laurent Koscielny. Arsenal just holding the majority of possession but Tottenham have had three chances already.
5:17pm: And we're off! Tottenham are starting on the attack straight away, like the Spurs of old.
5:12pm: The teams are on their way out of the tunnel an kick-off is fast approaching!
5:10pm: For incoming Tottenham manager Tim Sherwood this is no doubt the biggest match of his tenure at Spurs so far. Coming off the back of a confidence-boosting win over Manchester United at Old Trafford he has every right to expect his in-form side to progress to the next stage. It will certainly be a good test of his managerial skills.
5:01pm: All the other games are now officially finished and one of the most controversial games will no doubt be Aston Villa's 1-2 shock loss to Sheffield United. Paul Lambert admitted he'd prefer not to be worrying about Cup competitions during the week and he's now been made to pay for not taking the tournament so seriously.
4:55pm: Back to Tottenham and Arsenal, and one of the factors Spurs will be hoping to expose in their opposition is Arsene Wenger's lack of options up front. With Nicklas Bendtner injured and Olivier Giroud ill the manager will be hard-pressed to find an out-and-out striker today. Lukas Podolski is on the bench and Wenger will likely need him before the 90 minutes are over.
4:43pm: Another upset further down the leagues has Leeds losing 2-0 to League Two side Rochdale. It's an embarrassement for a side who have clear hopes of becoming a force in the Premier League again.
4:49pm: Meanwhile Everton are smashing QPR 4-0 and Southampon have just gotten the edge over Burnley 4-3. Could Kevin Long's last minute goal for the Saints be the winner?
4:43pm: Elsewhere in the FA Cup at the moment Sheffield United have taken a 2-1 lead over Aston Villa while MK Dons have equalised 3-3 with Wigan. Cardiff have also stuck their nose past Newcastle with a 2-1 advantage - lots of upsets in a very busy day of football!
4:39pm: This FA Cup game between Arsenal and Tottenham is the fifth one between the teams, with the Gunners winning three of the meetings while Spurs took out two victories. A changover in managers at White Hart Lane seems to have boosted Tottenham with Tim Sherwood letting Emmanuel Adebayor in from the cold, but Arsenal equally look unstoppable right now and are a tough team for any opposition to get past.
4:33pm: Earlier today Manchester City finished their draw with Blackburn 1-1 a piece, forcing a replay between the sides. Newcastle, Aston Villa, Everton, Hull, Norwich, Stoke and Crystal Palace are all in action today but it's Spurs and the Gunners which have the neutrals the most excited.
4:27pm: Line-ups for Arsenal v Tottenham
Arsenal: Fabianski, Sagna, Vermaelen, Koscielny, Monreal, Arteta, Wilshere, Rosicky, Cazorla, Gnabry, Walcott.
Subs: Viviano, Jenkinson, Mertesacker, Flamini, Ozil, Podolski, Ju-Young Park.
Tottenham: Lloris, Walker, Chiriches, Dawson, Rose, Lennon, Bentaleb, Dembele, Eriksen, Adebayor, Soldado.
Subs: Friedel, Fredericks, Fryers, Capoue, Chadli, Kane, Obika
4:22pm: Hello and welcome to the IBTimes UK live blog covering Arsenal's clash with Tottenham in the third round of the FA Cup. It's seen as the game of the weekend with both teams desperate to get one up on the other and progress in England's most prestigious domestic Cup competition. Can Spurs recover from their changeover in manager to prove too good for Arsene Wenger's side?