Liverpool new boy Fabio Borini is looking forward to forming a partnership with striker Luis Suarez having confirmed his move from Roma.
The 21 year old has signed a long-term contract with The Reds having confirmed his move from the Serie A club over the weekend, and becomes new boss Brendan Rodgers' first signing since taking over.
And Borini, who has been included in Liverpool's squad for their pre-season tour to America and Canada, says he can't wait to play with fellow striker Luis Suarez upon his return from Olympic duty.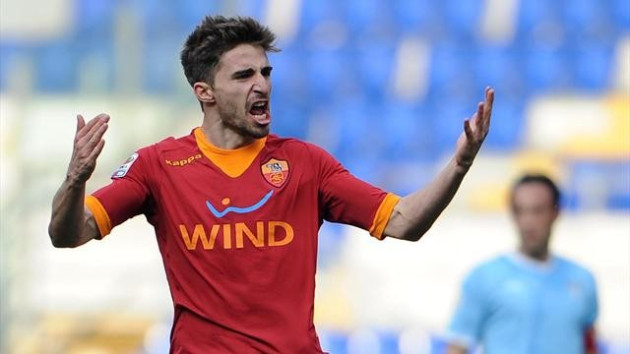 "He is maybe another player who is similar to me because he works very hard in every game," he said. "I've watched a few games, and all of Europe wants him.
"Every player wants to play with him, so it will be a pleasure."
Having played under Rodgers during his time at Chelsea and Swansea City, Borini has twice been exposed to the Northern Irishman's footballing philosophy, which earned him rave reviews in his first season as a manager in the Premier League last term.
Borini says Rodgers was an important reason for moving to Anfield, and promises fans disappointed by last season's failure to qualify for the Champions League, that an exciting brand of football will be on offer in the coming campaign.
"I wouldn't say it was the key, but most of it came from him," he added.
"Even during last season, I spoke with him a lot. I'd text him and ask if he was okay and congratulated him on the results he got with Swansea.
"First of all it is a relationship of friendship and afterwards it is a working one. That is more important than anything.
"I used to play 4-3-3 with him and he is very good to play football for. It is great to play football for him because you can have fun and you can get results. I could see at Swansea the people loved him because the football was attractive. People like to see football (played) like this.
"[The Fans] will certainly see football players that want to win, and that will always work for the team rather than themselves. Liverpool wants to get results and that's what we'll try to do. I think with Brendan they will see good football!"
Borini's first opportunity to impress for Liverpool comes on the club's tour against Toronto FC on 21 July, his former side AS Roma on 25 July and finally against Tottenham Hotspur on 28 July.