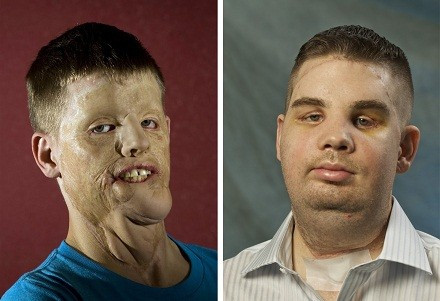 A soldier who suffered horrific facial injuries when he was electrocuted is "feeling good" again after a face transplant.
Mitch Hunter, 30, of Speedway, Indiana, underwent the life-changing operation six months ago and now has one more thing to be grateful for this Thanksgiving season.
The father-of-one's life was transformed when he became the third person to undergo a full facial transplant.
His badly disfigured nose, eyelids and lips, as well some facial muscles and nerves, were replaced in a 14-hour operation conducted by more than 30 members of staff at Brigham and Women's Hospital in Boston, Massachusetts.
Following his transformation, he said he now resembles his old self and even speaks differently.
During an interview with 24-Hour News 8 in Indianapolis, Indiana, Hunter expressed his gratitude by saying: "I am feeling really good actually. It's amazing how well they [the medical staff] did."
"I don't ever get a first glare, let alone a second stare," he added.
The former army private was injured in 2001 when he was a passenger in a car that crashed into a 10,000 volt electrical cable.
He received terrible facial burns as he pushed a live wire off the female driver. The massive shock also led to him losing his leg and the fingers on one hand.
Despite countless corrective surgeries to reconstruct his face, the results remained patchy, until he decided to have a full face transplant.
Although the road to recovery has not been easy, the life-changing operation has led to him becoming a donor.
"I'm very thankful. I became a donor because of it, so did my brother and a few of my friends," he added.