Companies are wasting huge amounts of advertising revenue to gain 'Likes' from Facebook members who have no real interest in their products.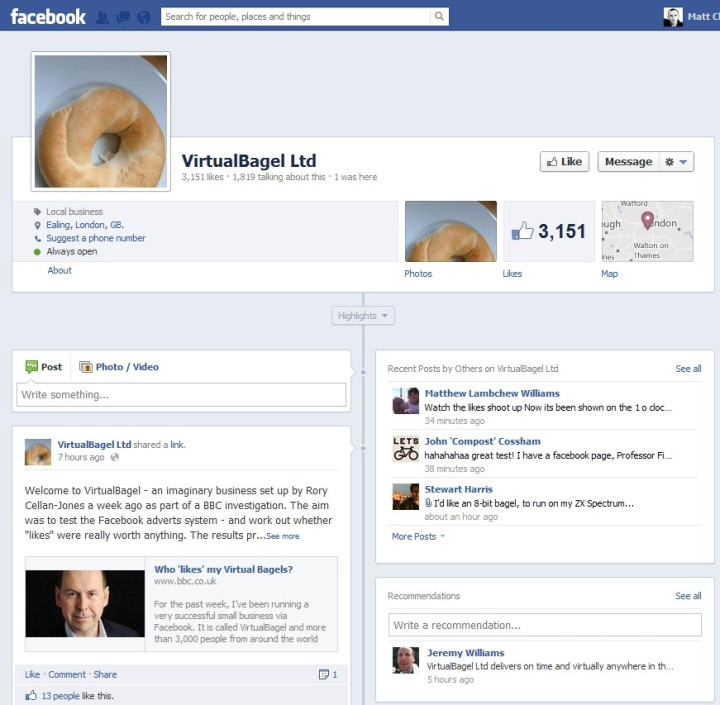 Research by the BBC found some marketing personal doubted that all the likes they were attracting were genuine and some companies had refused to pay for services designed to boost their Facebook following.
To test the effectiveness of Facebook advertising, the BBC created a page for the London-based business VirtualBagel Ltd. The imaginary firm company offered to download low calorie digital bagels made up of 0s and 1s over the internet.
The BBC placed adverts designed to get people to 'like' VirtualBagel's Facebook page and found that the number of likes originating from Egypt and the Philippines was out of proportion to the other countries targeted.
The page was most popular in Cairo, with 75 per cent of 'Likes' coming from 13 to 17-year-olds. One fan of the company from Cairo called himself Ahmed Ronaldo and listed Real Madrid as his employer.
Facebook told the BBC it had "not seen evidence of a significant problem."
"Neither has it been raised by the many advertisers who are enjoying positive results from using Facebook. All of these companies have access to Facebook's analytics which allow them to see the identities of people who have liked their pages, yet this has not been flagged as an issue," a Facebook spokesperson said.
Facebook previously revealed that up to 54 million profiles on its site could be fake, which accounts for around five to six percent of its 901 million.
"A very small percentage of users do open accounts using pseudonyms but this is against our rules and we use automated systems as well as user reports to help us detect them," Facebook told the BBC.
Social media marketing consultant Michael Tinmouth asked the BBC to look into the mater after a client refused to pay for his services.
Tinmouth had been promoting a corporate Facebook page but the client withheld payment claiming his adverts had not reached "real people".
A social marketing executive at a large UK company also told the BBC he was increasingly sceptical about the value of adverts placed on the social network.
"Any kind of investment in Facebook advertising has brought us very little return on sales," he said.
"The fans you get from advertising may not be genuine, and if they are genuine are they people who will engage with your brand? The answer, more and more, appears to be no."
Previous reports have suggested that Facebook advertising does not bring the results advertisers expect. A survey by Associated Press and CNBC revealed that 57 percent of Facebook's 901 million active users never click on adverts.
The social network earns 82 percent of its $1bn (£620m) quarterly revenue from advertising.