Facebook has launched a new feature called "Safety Check" that enables users to check-in and let their friends and family know that they are safe and what their location is during disasters.
Most users of the social network list their current city of residence on their Facebook profiles, and in addition, in their daily lives, many users use the "Check In" feature to post a status saying that they are at a restaurant or some local attraction.
There are also some users who allow Facebook to know their location for the "Nearby Friends" feature, which sends users who are near to the person a Facebook notification.
When a major disaster occurs, Facebook's new tool searches for users who have previously listed themselves as being in the affected area, for example London, and will send the user a push notification to their mobile device asking, "Are you safe?"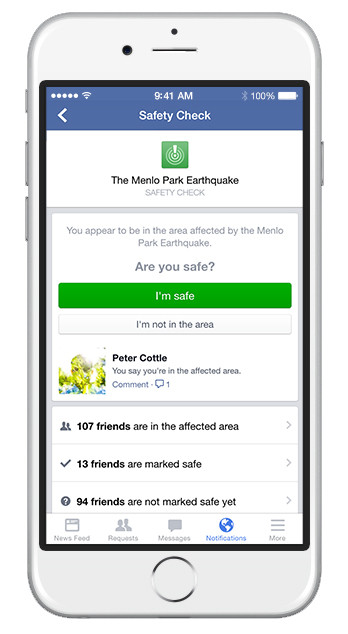 Users can choose to confirm this by pressing the "I'm safe" button, or press another button to state that they are not in the affected area.
Inspired by 2011 Japanese tsunami
The new tool was announced by Facebook CEO Mark Zuckerberg at a press conference in Japan on 16 October and is inspired by the firm's Japanese engineers.
During the 2011 Tōhoku earthquake and tsunami, which affected over 12.5 million people and caused 16,000 fatalities, engineers working for Facebook in Japan decided to create a customised disaster message board so that the victims could quickly get information to each other.
"Our engineers in Japan took the first step toward creating a product to improve the experience of reconnecting after a disaster," said Naomi Gleit, vice president of product management at Facebook.
"They built the Disaster Message Board to make it easier to communicate with others."
Not a first responder tool
The important thing to note is that this function is not meant to be a first responder tool – if users do not use Facebook to check-in during a disaster, authorities and families will not be contacted unless the user makes contact in another way.
Rival social network Twitter introduced a tool to give users crucial information during disasters back in September last year.
Twitter Alerts takes crucial tweets with news from emergency responders and government agencies that show up with an orange bell icon on the Twitter newsfeed, and are also sent as push notifications to users' smartphones and tablets.
Facebook's Safety Check feature will be available on iOS and Android devices, as well as feature phones and desktop computers in the "Crisis Center" part of the website.