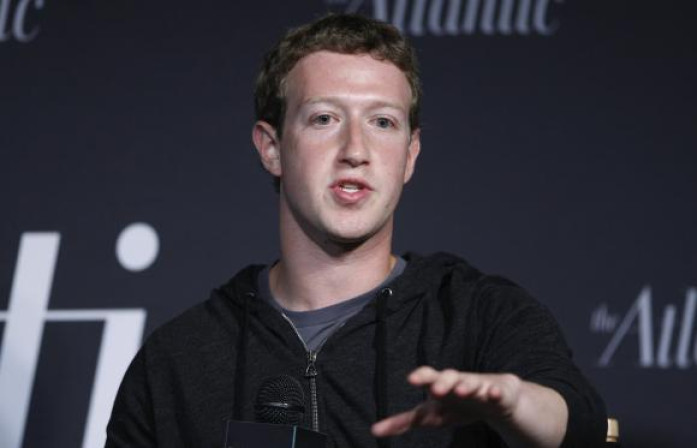 Facebook founder and chief executive Mark Zuckerberg, along with wife Dr Priscilla Chan, is donating $25m dollars to help the CDC tackle the Ebola crisis engulfing west Africa.
The CDC foundation, a non-profit organisation, supports the US Centres of Disease Control and Prevention which are now fronting the Ebola fight, with more than 100 epidemiology experts working in the worst affected countries – Liberia, Guinea and Sierra Leone.
The CDC also has a team in Texas handling the first Ebola incident in the US following the arrival in the country of Thomas Eric Duncan, a Liberian man, who has since died after contracting the virus. A nurse who treated him is now also being treated.
In a Facebook post, Zuckerberg explained the donation: "The Ebola epidemic is at a critical turning point. It has infected 8,400 people so far, but it is spreading very quickly and projections suggest it could infect 1 million people or more over the next several months if not addressed.
"We need to get Ebola under control in the near term so that it doesn't spread further and become a long term global health crisis that we end up fighting for decades at large scale, like HIV or polio.
We believe our grant is the quickest way to empower the CDC and the experts in this field to prevent this outcome."
With this contribution, Zuckerberg then doubled the amount donated to the foundation's Ebola response.
The Ebola crisis, which the WHO director general Margaret Chan has called "the most severe acute public health emergency in modern times," has claimed more than 4,000 lives, and it is feared that the disease will spread more rapidly unless it is contained imminently.
CDC spokeswoman Claire Greenwell said that, including Zuckerberg's donation, $40m had been committed to its Ebola operations, all of which will be used to provide key resources, facilities and services on the scene.
The CDC's website says that donations help to buy protective gear for healthcare workers, supply emergency treatment centers in west Africa and establish Ebola education programmes in the affected west Africa.
In another Facebook comment, Zuckerberg, whose personal net worth is said to be north of $32bn, defended his decision to support the CDC, despite the US government' efforts.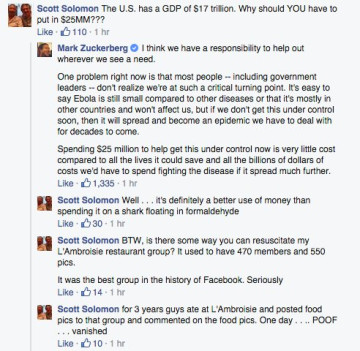 He said: "I think we have a responsibility to help out wherever we see a need. One problem right now is that most people - including government leaders - don't realize we're at such a critical turning point.
"It's easy to say Ebola is still small compared to other diseases or that it's mostly in other countries and won't affect us, but if we don't get this under control soon, then it will spread and become an epidemic we have to deal with for decades to come.
"Spending $25 million to help get this under control now is very little cost compared to all the lives it could save and all the billions of dollars of costs we'd have to spend fighting the disease if it spread much further."