Facebook has posted its quarterly results as a public company, recording a revenue of $1.18bn (£750m) and narrowly beating estimates.
Despite the improved revenue, Facebook posted a net loss of $157m (£100m), or eight cents a share in the second quarter, due to hefty stock compensation charges related to its IPO.
If it wasn't for this payout and expenses totalling $1.93bn, the company would have made a profit of $295m, up from $240m in the same period last year.
Revenue gained from advertising was $992m, which accounts for 84 percent of total revenue for the quarter and a 28 percent increase from the same time last year.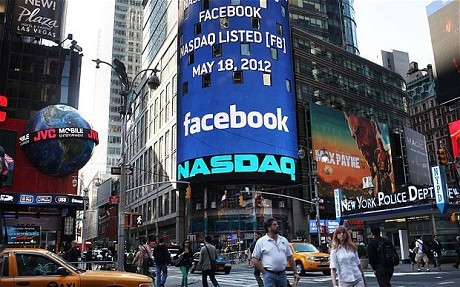 Facebook's share price fell 8.5 percent to close at $26.85, but fell further in after-hours trading, as Mark Zuckerberg made the earnings call, to a record low of $24.20 at the time of writing.
After enormous growth in recent years, Facebook's user base increased modestly this quarter, seeing total monthly users grow from 901 million to 955 million, of which 552 million log in every day.
As for mobile users, this increased from 488 million per month in March, to 543 million in June, representing an increase of 67 percent compared to the same period last year.
Average revenue generated per user is back up to $1.28, the same level that it was at in the fourth quarter of last year.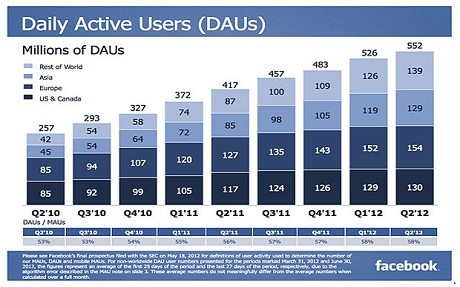 Money spent on marketing and sales jumped more than fourfold to $392m, showing that Facebook is keen to spend money in order to attract new users and advertisers alike.
Despite revenue being up from the last quarter, questions still remain over its use of adverts in mobile applications - something the company will have to do more of if it is to gain revenue from its increasing mobile user base.
Users are as engaged with Facebook as ever, with the average time spent on the site and its mobile apps up 5.1 percent to 400.2 minutes, or more than 6.5 hours per month.
Facebook fared somewhat better than game company Zynga, which posted a £15m loss a day earlier, seeing its user base for Farmville shrink from 80 million to just 20 million - a drop that will no doubt hit Facebook's bottom line.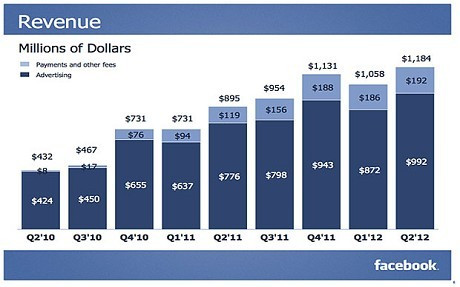 Founder and CEO Mark Zuckerberg took part in the earnings call to investors, along with chief financial officer David Ebersman and chief operating officer Sheryl Sandberg.
Zuckerberg said that Facebook's priorities for 2012 are its mobile platform and social adverts; he said that this is crucial, as mobile users are more active than those who visit Facebook on a desktop or laptop.
The 28-year-old CEO added that Facebook is beginning to demonstrate that it can advertise effectively on mobile, while ruling out the possibility that Facebook was looking to get into the smartphone manufacturing market.