Facebook's stock price surged on 30 July and came within an inch of touching its IPO price, more than a year after its debut on the Nasdaq stock exchange.
The world's largest social-networking company has never traded at or above its $38 (£24.95 , €28.66) debut price.
However, on Tuesday, the social network's stock price shot up 7% to $37.96 in sustained trading. The stock finished 6.2% higher in the regular session at $37.63 .
According to a Reuters report, stock market traders exchanged 694,000 calls and 300,000 puts on Facebook on Tuesday. The most popular options were the weekly $38 and $37 strike calls expiring this Friday as most traders expected gains in the coming days.
One player liked the weekly $32.50 strike puts expiring on 9 August, which appeared to be bought 15,000 times for only a dime, Reuters quoted WhatsTrading.com options strategist Frederic Ruffy.
Facebook's stock has surged more than 40% in the past week after it reported a 53% jump in second-quarter revenue, to £1.81bn, which was far ahead of Wall Street analysts' predictions.
The company has a market capitalization of $90.72bn (£59.57 , €68.42)
"Most companies of that size don't re-accelerate their growth-rate. Facebook's been an exception," said Aaron Kessler, an analyst with Raymond James.
"I would say they're in better shape today than they were at the IPO price and the stock is still below that," he added.
Facebook's second-quarter results reflected an increase in monthly users and more importantly, mobile ad revenue [ Figure 1]. This helped in winning back shareholders' respect and confidence in the company's prospects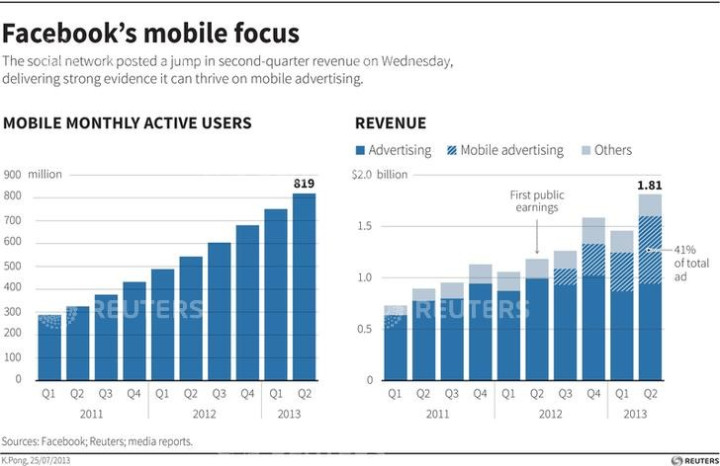 The company reported a 51% increase in monthly mobile users at the end of the second quarter, compared to the same period last year. There are now 819 million monthly mobile users.
That increase sparked a rise in mobile ad revenue which now represents 41% of Facebook's overall revenue generated through advertising - up from 30% a year earlier.
Facebook's public issue listed on Nasdaq on 18 May, 2012. However, concerns about slowing revenue and massive insider-selling cut the company's market value in half in the months that followed.
By early September, Facebook's shares had bottomed at $17.55.