Facebook is reported to be developing a dedicated Messenger desktop app for Mac users. This is expected to enable users to access the app directly from the dock, instead of going through the web browser tabs.
Releasing the app for Mac makes sense, as the app is gaining in popularity with a growing number of users. Separating Messenger from Facebook would be helpful for those wanting to get rid of Facebook ads. It had earlier separated messaging from the news feed on mobile.
Techcrunch has found access to photos showing a Facebook employee using the Messenger app on Mac. The source of the photos is cited as saying that the official version of the app the employee was using had the Messenger logo in the app dock and named as "Messenger" in the menu bar. The Mac app includes a navigation tab bar in the bottom left, which matches the tab bar option in the Messenger for iOS version of the mobile app, with options such as Recent, Groups, People and Settings.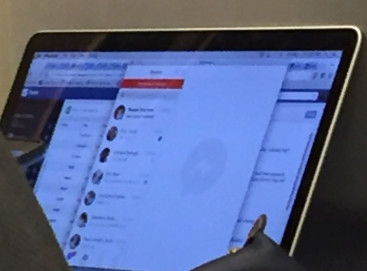 Earlier, in 2012 Facebook launched its first desktop app for Windows, incorporating functionality similar to that offered by the Messenger version for mobile including all Facebook activities and chatting. A Facebook spokesperson at the time told Venture Beat: "Our focus is to enable people to access Messenger from the platform of their choice." The spokesperson added that a Mac version of the app was in the works. The Messenger app is already running across all platforms such as iOS, Android and BlackBerry mobile devices.
After making available the Windows app for two years, Facebook shut it down. "We're sorry, but we can no longer support Facebook Messenger for Windows and it will stop working on 3 March, 2014. We really appreciate you using Messenger to reach your friends, and we want to make sure you know that you can keep chatting and view all messages on http: //www.facebook.com," the company said. Since then there has been no desktop app, although in April 2015 the company launched a dedicated web interface for the Messenger.