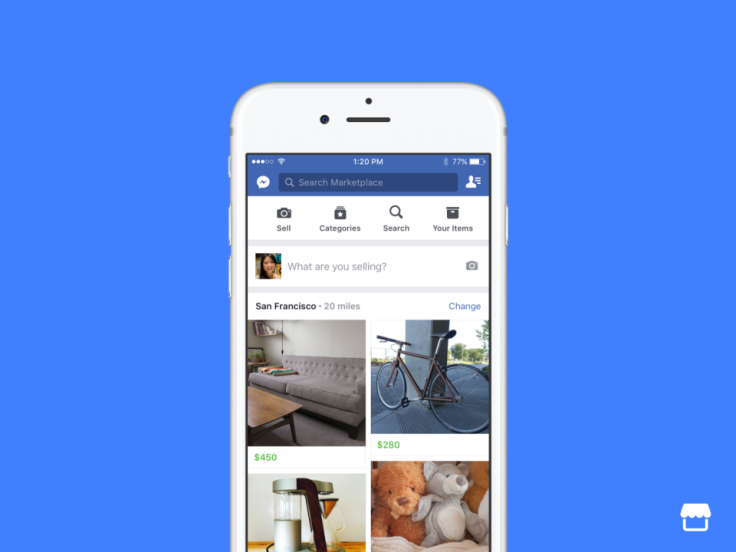 That didn't take long – Facebook has only just launched its Gumtree/Craigslist competitor Marketplace on Monday 3 October, and already people are posting items that clearly violate the social network's policies both in the US and across the pond here in the UK.
On the US version of Marketplace, users are blatantly selling guns, marijuana and even animals like dogs, baby hedgehogs, snakes and fish, as well as suggestions of adult services, according to users on Twitter.
IBTimes UK accessed the UK version of Marketplace on Android – it is accessible from the Facebook mobile iOS and Android apps – and we discovered that users were selling illegal prescription painkillers like Diazepam and Ketamine; bulk packs of cigarettes; pirated Windows software; counterfeit designer Louis Vuitton handbags; animals like cats, dogs, snakes and fish; and "open box" digital receivers that let users get Sky satellite channels without having to subscribe.
Facebook's official Commerce Policy says that users are forbidden from sell any type of drug; tobacco items; weapons; animals; adult items or services; adult health items; alcohol; gambling services; fraudulent or misleading items and posts; as well as non-physical services, subscriptions, digital products or rentals.

Until recently, the prime place to get hold of illegal drugs, weapons, stolen credit cards, fake IDs and access to unsavoury services like hacking, gambling and sports betting has been on underground marketplaces on the Dark Web, which is a section of the internet not discoverable by conventional means, such as through a Google search or by directly entering a website URL.
Facebook Marketplace is available to anyone over the age of 18 using the Facebook mobile app in the US, UK, Australia and New Zealand. Clearly a segment of users was made aware of the new feature several weeks ago in order to populate the marketplace, and in the last 24 hours, a deluge of new users have started uploading items for sale too.
Of course, there are also lots of legal items for sale too on the UK marketplace that we saw, mostly the same sorts of things you'd find on eBay, from mobile phones, secondhand video games, drones, DVDs and furniture to clothes, shoes, baby things, strollers, bikes, toys, secondhand office equipment, furniture, cars, boats, vehicle parts, cosmetics, wedding stuff, vintage china, aquarium equipment, house plants and mattresses.
But there is also the Gumtree-style element, so you can find rooms for rent; holiday cottages for short lets; and even children's party entertainers, as well as a few posts we assume have been put up as a joke, such as, "A date with this semi-good looking man" being advertised in Birmingham, and a post titled "ipad" from Swaffham, which is basically someone trying to identify and locate a man who was seen in a local pub for some mysterious reason.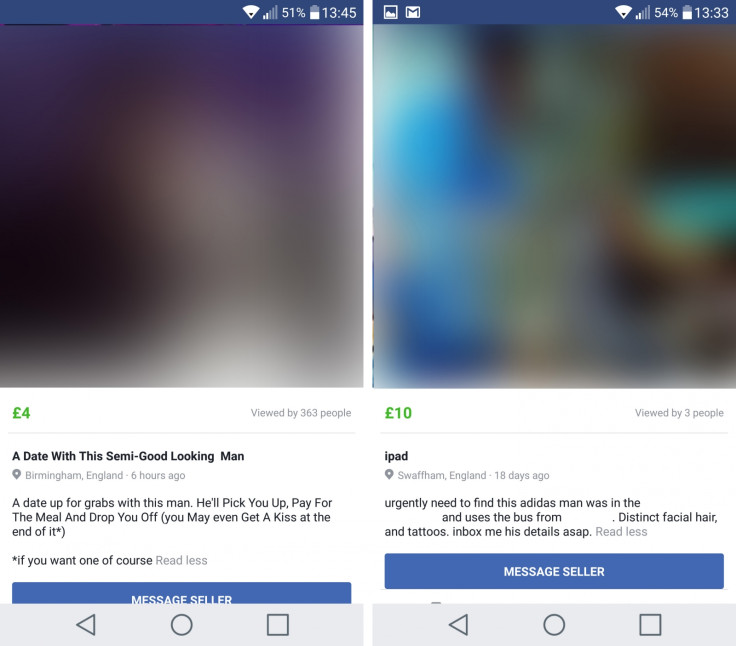 It's not surprising that Facebook has decided to take on online classifieds and online selling by replacing the Messenger icon with the Marketplace feature – millions of users have already been using its groups to sell and trade secondhand clothes, shoes and accessories for years, to say nothing of the underground weapons trading on Facebook pages in the Middle East, which IBTimes UK investigated in February.
Facebook told US Today that it is now working to remove all counterfeit and prohibited products from Marketplace before it opens up the feature to all users in the four countries where the service has been launched.