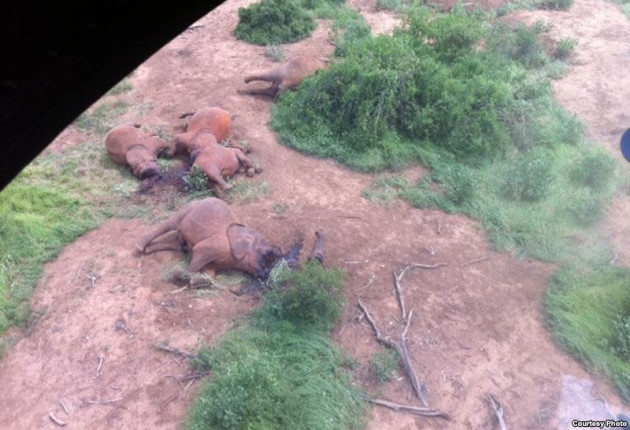 Kenya's leading conservation agency says a family of 12 elephants have been found dead in the worst massacre of recent times.
The Kenya Wildlife Service says the massacre took place at the weekend in the Bisadi area of Tsavo East National Park, and all 12 elephants were found with their tusks hacked off.
All of the elephants had been shot. The youngest was a juvenile, just two months old.
Following the discovery, the poachers - believed to number 10 - were pursued by rangers and the search for their whereabouts continues.
Paul Udoto, spokesman for the KWS, described the massacre as "an unimaginable, a heinous, heinous crime", adding:
"We have not seen such an incident in recent memory. It's the worst single loss that we have on record, and our records go back almost 30 years.
"These were professional killers. The attack was targeted and efficient."
Another spokesman added that they killed the matriarch elephant first, meaning the rest of the family had to "mill around", so it was "very easy to kill them".
Shoot-out
In a separate incident, two suspected poachers were gunned down in the Isiolo County yesterday after a shoot-out.
The KWS said it recovered eight pieces of ivory after the battle. They also found a G3 rifle, 12 rounds of ammunition, assorted weapons and a weighing scale.
No rangers were hurt in the late evening shoot-out. Police from Isiolo are now helping with further investigations and have visited the scene of the crime.
Two more unrelated poaching suspects were arrested on Sunday. Officials also found a Caribine rifle, one round of ammunition and 19kgs of ivory. They were found after members of the public volunteered information about them.
Tsavo spans 22,000 sq km and was home to an estimated 13,000 elephants. The number of elephants killed for their tusks has increased dramatically in recent years; in 2010 178 elephants were killed, while 360 were killed last year.
The rise has been attributed to increased demand for ivory in Asian countries such as China.
In order to combat poaching, some have suggested introducing a "shoot to kill" policy specifically for poachers.