Fans are flocking to support Kim Kardashian, after she revealed that psoriasis has spread to her face, following the trauma of her Paris robbery last October.
The reality star, 36, has long-suffered from the dry skin condition, but admitted her shock to fans at the autoimmune disease is spreading across her body.
"Wait why am I now getting psoriasis on my face?" tweeted the mother-of-two, who previously only battled patches of scaly skin on her legs.
The outbreak, which can be worsened by stress, follows months of personal turmoil for the star.
Kardashian fell victim to a horrific gunpoint robbery back in October, when five armed gunmen burst into her hotel room, leaving her bound and gagged before stealing $10m (£8m) of jewellery.
Weeks later, husband West, was admitted to the UCLA Medical Centre after suffering a "psychiatric emergency" on his Saint Pablo tour, foreshadowed by wild onstage rants.
The 39-year-old, who expressed his controversial support for President-elect Donald Trump during a show in San Jose, subsequently visited the Republican at Trump Tower following his release from hospital.
The meeting reportedly caused tensions between the rapper and Kardashian, with rumours continuing to swirl about the state of their marriage, despite recent public displays of unity.
Amid these troubles, Kardashian took a break from celebrity commitments to recover and hold her family together.
But despite making a triumphant return to social media earlier this week, the events appear to have taken a physical toll on the socialite, evidenced by her psoriasis.
Kardashian first documented her battle with the disease back in 2010 during an episode of Keeping Up With The Kardashians in which she visited her dermatologist.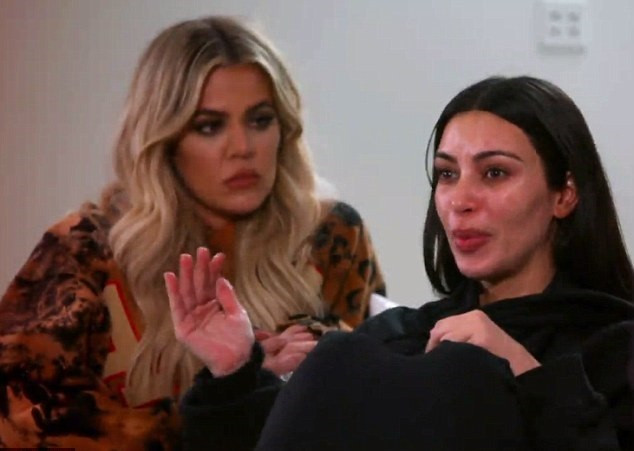 She has since been vocal about her struggle and attempts to break the stigma around the condition.
On her app last year she wrote: "Everyone with psoriasis has different symptoms; sometimes the rashes are itchy, sometimes they're flaky. Mine flares up from time to time for different reasons.
"I'm always hoping for a cure, of course, but in the meantime, I'm learning to just accept it as part of who I am."
Fans were quick to support the social media icon in her latest struggle, with Kardashian retweeting a message of support that read, "Kim you're fantastic forever I'll be by your side".
Another psoriasis sufferer, GetYourSkinOut, replied: "It's all good girl we've all been there just #getyourskinout, show your psoriasis!"
The Daily Mail report that Kardashian manages the breakouts by "sticking to a strict diet" and applying cortisone cream and having injections when necessary.
Kim's mother, Kris Jenner, who also has the hereditary condition, first spotted her daughter displaying symptoms of the disease.
"I thought it was just a rash caused by the fabric [of a dress], but then the rash was covering my legs and my mom was like, 'I think you have psoriasis!!!' She has it, too, and it's hereditary, so she spotted the symptoms immediately."