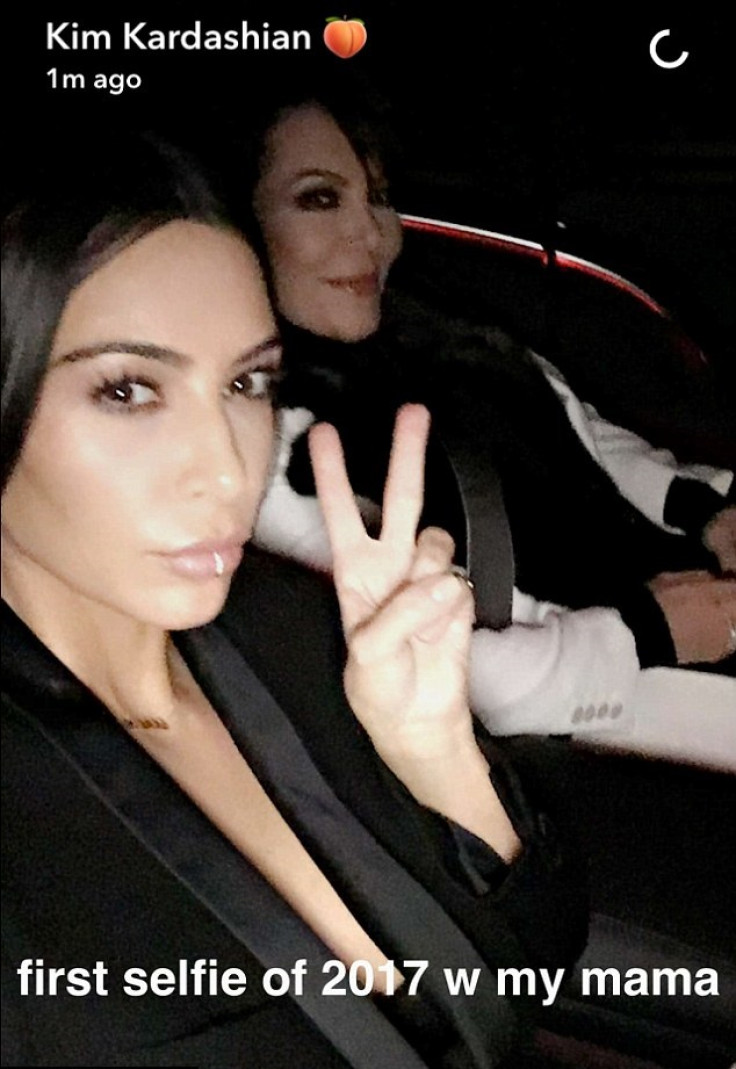 Kim Kardashian West is back on social media and has celebrated her return with her first selfie of 2017.
The reality TV star, who is famed for her provocative selfies, had stayed out of the spotlight following the Paris robbery in October, when she was bound, gagged and held at gunpoint by five masked gunmen in a terrifying ordeal.
However, as she embraces the new year, the 36-year-old seems keen to put the last few turbulent months behind her by going back to doing what she does best.
On Wednesday (4 January) she posted the shot of herself with her 'Momager' Kris Jenner on Snapchat with the caption: "First selfie of 2017 w my mama,".
Wearing a plunging black top and showing off her new lip ring, the Keeping Up With The Kardashians star was seated in a car alongside her mum.
The mother-of-two seemed to be getting snap happy on Thursday (5 January) too, as she shared a series of family pics and a video capturing some of the happier moments of 2016, with her famous sisters, her rapper husband Kanye West and her children North,3 and Saint, 1.
Kim also interacted with her fans who were elated at her return after a three-month absence.
Posting several crying emoji's and a heart one admirer wrote: "Kim's tweeting fans!!! She's back!! She's really really back," prompting the reality star to reply: "Haha I missed you guys!"
She kicked off her social media comeback on Tuesday (3 January) by sharing a family photo on Twitter and Instagram with the simple caption: 'Family"
After the robbery, Kim faced criticism for flaunting her wealth on social media and documenting her every move, making her an easy target for the thieves.
Designer Karl Lagerfeld was among those who admonished the star for not taking proper security measures in light of her wealth.
"It's a very bad thing for Paris, but I don't understand why she was in a hotel with no security," the Chanel creative director told Reuters while at Paris Fashion Week.
"If you are that famous and you put all your jewellery on the net, you go to hotels where nobody can come near to the room. You cannot display your wealth and then be surprised that some people want to share it with you," he said.
According to Mail Online a source said that Kim, who has built the Kardashian brand on social media, needed to return to work.
"It was time for Kim to get back on social media and back to work. That is a huge part of her career. She has obligations to support her family and has an entire team working for her. It was time to get back to normal.
"It's hard to put a specific price on it, but Kim lost millions and millions of dollars in work she had to pass on because of the personal events in her life this fall. It's the first time Kim has not worked since she started being a celebrity really, and Kim is a workhorse.
"'She's feeling really good and strong. She had three months off and was able to spend an amazing chunk of time with her kids and Kanye, and I don't think she would trade that in for anything, but she is ready to get back into a routine and back into the swing of things. She's in a very good place and is ready to move on."'
However, while she is returning to some kind of normalcy after a turbulent period in her life, Kim is "not ready" to talk about her robbery ordeal yet.
"She's not ready to get into the past, but she is ready to move forward. Kim knows she has to address the robbery at some point, but she's not ready to just yet," the source explained.
"She's uncomfortable talking about it still. It's the scariest thing that's ever happened to her, and for her to relive that night by every detail is something she's mentally and emotionally putting off right now.'
Kim and husband Kanye were beset by personal traumas in 2016. Just a month after the Paris heist, Kanye was rushed to a hospital in Los Angeles after suffering a psychotic breakdown, apparently brought on by stress and was admitted to a psychiatric ward.
The pair faced speculation that their marriage was in turmoil and they were headed for divorce. The 39-year-old rapper cancelled the European leg of his Saint Pablo Tour, and is reportedly now taking time off to focus on his family.