Ukip leader Nigel Farage has slammed Democrat US presidential hopeful Hillary Clinton, saying that she has been "too close to power for far too long".
Writing in the Telegraph, he also voiced incredulity over the fact that she had allegedly used 13 separate mobile phones during her time as the US secretary of state. "Such practices I would normally compare to pay-as-you-go drug dealers on Britain's council estates."
He said that Clinton was "so politically correct" that when she was challenged about concerns over Islamic terrorism, "she cannot even mention the term".
In a clear backing of Republican nominee Donald Trump, Farage said: "The whole Trump campaign sees Brexit as an inspiration. And no day goes by when he does not refer to it. The battle against the big business and political elites is very similar."
He noted that the basic conviction is that change is needed as the current system is failing ordinary people: "If Trump does win, it will be because so many new voters have joined his movement with massive enthusiasm."
Farage also praised Trump for speaking to the ordinary American in a way that Clinton and other Washington insiders have long failed to do. "What may be difficult for a UK audience to understand is just how hated Hillary is by millions of Americans," he said.
Trump is Republican candidate in name only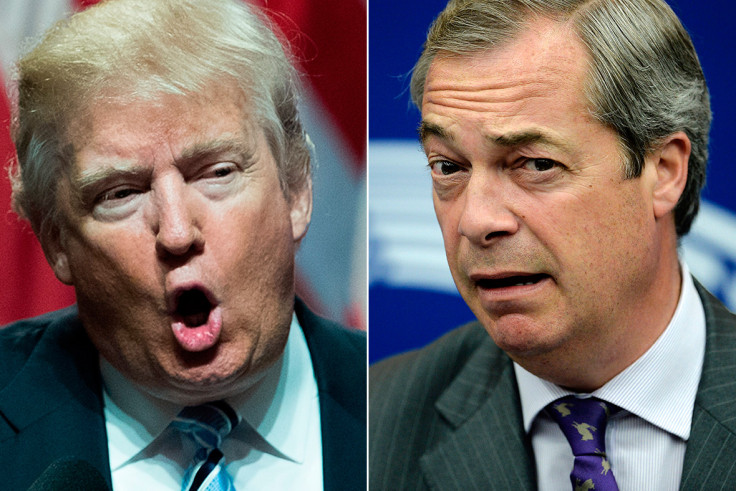 The Ukip leader said that although Trump is technically the Republican nominee in the presidential elections, it is only in name. "In effect, he is now really running as an independent." He noted that Trump has been deserted by "most, if not all, of the upper echelons of the Republican Party".
Farage said that in light of this development, the fact that the election result is still unpredictable is "all the more remarkable".
Security forces and military back Trump
Farage also said that more than 200 former generals and admirals now support Trump. The FBI's announcement last week that it was reviewing Clinton's emails recovered recently "was little other than a declaration of war" on the Clinton campaign.
"The forces of law and order and the military now believe that Trump is the safer option. It is all extraordinary stuff."
In his article, Farage expressed the belief that the result of the election will be tight, but argued that new voters desperate for genuine change will tip the result in favour of Trump.
"What is absolutely certain is that, even if he loses, the Ukip-style passion of the average Trumpite will not go away."
Farage believes that there is a possibility of a "genuine third party" emerging in the US. "I say this because I don't think the Republican establishment will ever fully accept Trump — rather like the way the Conservative Party here feels about me.
"What is clear to me is that, imperfect though the Donald may be, he is the agent for change in this election. And importantly, he likes our country. Either way, things can never be the same again."