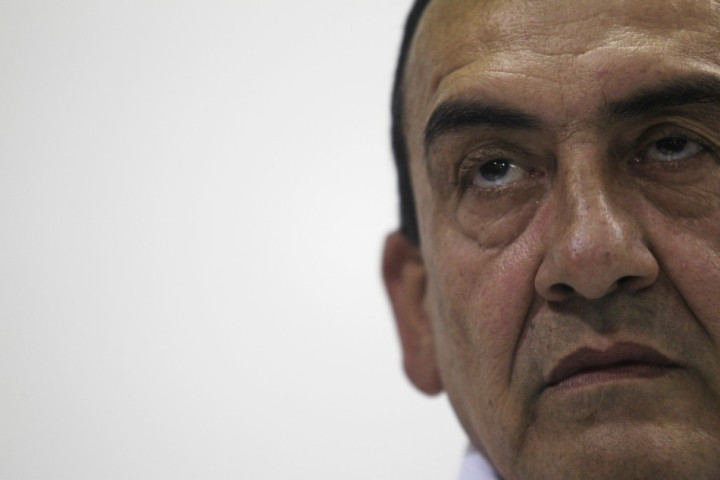 Colombia's biggest rebel group has announced the names of its negotiators for historic peace talks seen as a turning point in the five-decade-old conflict with the government.
Revolutionary Armed Forces of Colombia (Farc) leader Mauricio Jaramillo said Ivan Marquez and Jose Santrich will take part in the negotiations in Norway in October.
They will meet the two government who led preliminary talks: national security adviser Sergio Jaramillio and former peace commissioner Frank Pearl.
President Juan Manuel Santos announced a deal with Farc to get round the table in a televised speech. It was, he said, a plan for "a definitive peace".
The announcement followed exploratory discussions in Cuba with the leftist group, formed by members of the Colombian Communist party.
The last negotiations were in 2002 but collapsed after authorities accused the rebels of taking advantage of the demilitarisation of parts of the country to rebuild their forces.
"Any responsible leader knows he can't let pass up a possibility like this to end the conflict," Santos said of the latest thaw between the two sides.
Farc commander Timoleon Jimenez announced the rebels' participation in a videotape played in Havana.
Former interior minister Humberto de la Calle, former national police director Oscar Naranjo, former armed forces chief Jorge Enrique Mora and Luis Carlos Villegas, president of Colombia's main business group, will also take part in the negotiations.
Farc, which is considered a terrorist organisation by the EU and the US, has been fighting a guerrilla war to overthrow the government since 1964.
The organisation has shrunk in the last 10 years, as a consequence of a US-backed security campaign and the death of several top leaders.
Some experts claim the rebels are funded in large part by illegal activities such as drug trafficking, gold mining and arms smuggling.
Prime Minister David Cameron called the talks "a courageous step".
"We know from Northern Ireland how important it is to learn from past mistakes and to have the political courage to pursue peace," he said.
"The UK stands ready to draw on its experience in support of the Colombian peace process as it progresses."