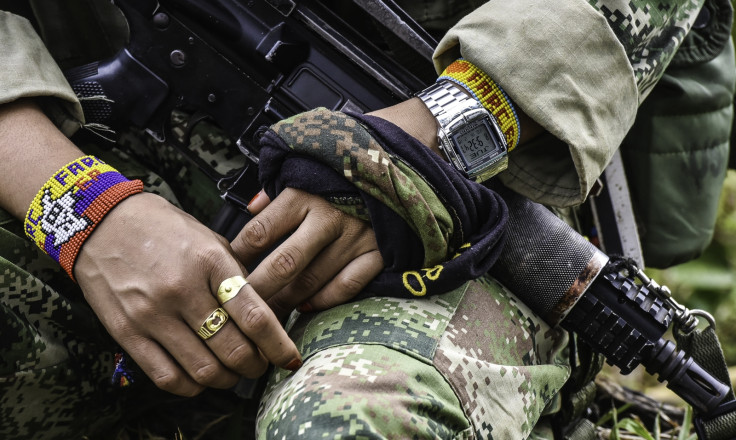 The Revolutionary Armed Forces of Colombia guerrilla group, known wordlwide as Farc, will pay reparations to victims of its 52-year war with the Colombian government, as part of a peace deal being brokered between the two sides.
The payments will be made to victims of Farc killings, kidnappings, bombings and displacements and will be handed over during the demobilisation process, which is set to transition the armed group into a political party.
The fighting in Colombia has killed more than 220,000, according to government figures. Nearly seven million Colombians have also been driven from their homes — the highest number of what the United Nations considers "internally displaced people" (IDPs) in the world.
Government reports claim that Farc possesses huge tracts of valuable land, as well as cattle ranches, shops and construction companies which have allegedly helped the group launder money from drug trafficking, kidnapping and extortion.
"We will proceed to declare before the government all the monetary and non-monetary resources that have formed part of our war economy," the Marxist group said, in a statement seen by Reuters.
"We will proceed to the material reparations of victims."
The statement also said that the declarations made by Farc will represent a final account-taking of its assets.
Farc "has no monetary or non-monetary resources additional to what it will declare during the laying down of arms" it said.
On Monday, Farc's leader Timoleon Jimenez and Colombian President Juan Manuel Santos signed a peace agreement setting in motion a process that is hoped will bring an end to decades of conflict.
The final ratification of the peace deal depends on a referendum being held on Sunday (2 October) which will ask the Colombian people to vote "yes" or "no" on the terms of the settlement.
Under the deal, Farc are set to develop economic projects, including tourism, farming and cheese-making, to employ their ex-fighters, but they will not be permitted to fund the efforts with money earned from crime.