Thousands of US Fast Food Workers Strike Against Low Wages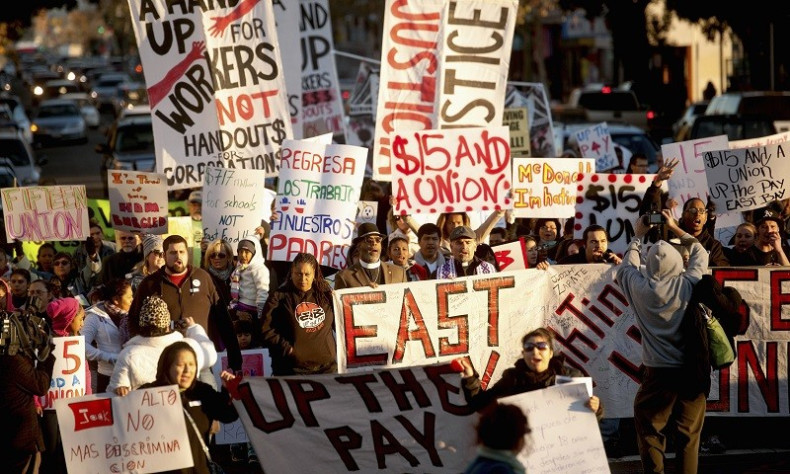 Thousands of fast food workers across the US have staged strikes over pay.
The organisers of the industrial action across more than 100 cities have called for the country's federal minimum wage to be increased to $15 (£9.19, €10.98) per hour, up from $7.25.
Actions were seen in New York, Chicago, Washington, as well as Detroit, Michigan and many other US cities.
In particular, 100 protestors in Chicago marched along Michigan Avenue, one of the second city's biggest streets, chanting "we can't survive on $7.25".
The current minimum wage level means someone working 40 hours per week, 52 weeks per year, receives an annual income of only $15,080, according to the Economic Policy Institute.
The think tank claimed the figures mean families with two or more children on the minimum wage, will be below the country's poverty line.
President Barack Obama has lent his support to a Senate bid to raise the rate to $10.10 and pegging it to inflation.
In addition, some local authorities, including California and Connecticut, have raised their minimum wages this year giving further support to a hike.
But the bill may struggle to pass through the House of Representatives as the Republican Party hold a slim majority in the chamber.
Only 2.2% of jobs in the fast food industry are managerial, professional, or technical occupations, according to the National Employment Law Project (NELP).
The organisation also said front-line workers make up a vast majority (89.1%) of all jobs in the fast food industry and receive a median hourly wage of $8.94 per hour.
In contrast, the NELP said first-line supervisors, with a median hourly wage of $13.06 per hour, make up the remaining 8.7% of jobs in the fast food industry.
McDonald's and KFC had not responded to a request for comment at the time of publication.