A father who had his children taken away from him after he named them Adolf Hitler and Aryan Nation turned up to a custody hearing in full Nazi uniform.
Heath Campbell, father of Adolf Hitler Campbell, seven, JoyceLynn Aryan Nation Campbell, six, Honzlynn Jeannie Campbell, five, and 18-month-old Heinrich Hons Campbell, appeared in court dressed as a Nazi. He was fighting to have his youngest son - who was taken into care shortly after being born in November 2011 - returned to him.
His other three children were taken into care in 2009.
Campbell, along with his estranged wife Deborah, first drew attention to himself in 2008 after a shop in Flemington, New Jersey, refused to decorate a cake with "Adolf".
Campbell, who has a tattoo of a swastika on his neck, told NBC10 before his appearance: "I'm going to tell the judge, I love my children. I want to be a father, let me be it."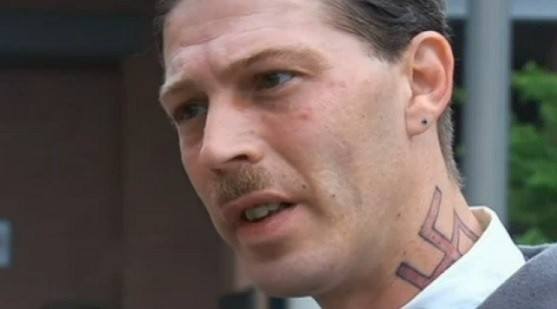 Campbell said that he had never physically hurt his children and should be allowed to raise them.
"I've never abused my children. I only name my children.
"What they're saying is that because of my beliefs, [because] I'm a Nazi, us people don't have any constitutional rights to fight for our children."
Campbell began wearing full Nazi regalia after setting up an organization, Hitler's Order" in 2012. He was accompanied to the hearing by a member of the group, Bethanie White.
He said: "If they're good judges and they're good people, they'll look within, not what's on the outside. Let me prove to the world that I am a good father.