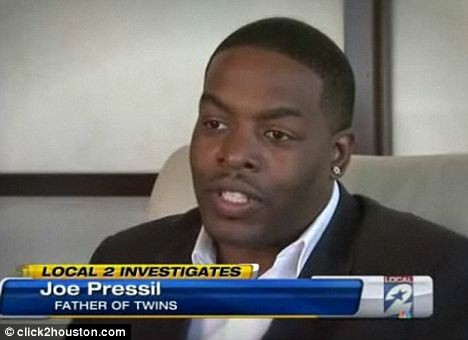 A father has filed a unique lawsuit against a fertility clinic after they used his 'stolen' sperm to get his former girlfriend pregnant with twins.
Joe Pressil, a 36-year-old telecommunications manager from Houston, Texas, claims that the he was unaware that his girlfriend was undergoing IVF treatment and that his 'stolen' sperm was taken to the Houston-based fertility clinic without his knowledge or consent.
The unsuspecting father has alleged in his lawsuit that his former girlfriend, who had told him she was unable to conceive while they were together, stole the sperm by keeping a condom after they had sex.
He later discovered that she was pregnant with twins, three months after they split up in 2007. She promptly sued him for child support following the birth after a paternity test confirmed that he was the father.
In his lawsuit, Pressil claims that he only realised the sperm plot when a receipt arrived in the post listing him as the patient at the Advanced Fertility Centre in Houston, Texas , which he claims he had never visited as he would never seek fertility treatment for religious reasons.
According the Houston News Pressil, said :" Really, I couldn't believe іt сουld bе done. I wаѕ very very devastated.
"I couldn't believe that this fertility clinic could actually do this without my consent, or without my even being there," he added.
Pressil who says that he did not want to start a family with his former girlfriend is now suing for damages over claims that he has suffered mental anguish.
However, lawyers for the fertility clinic have branded the lawsuit "suspect" and "disingenuous."
A spokesman for the Advanced Fertility Clinic claimed that the clinic received a signed consent form and blood tests from Presill but also admitted that the consent forms could have potentially been forged by the mother.
'When patients provide information like [the ex-girlfriend], we rely on truthful and accurate information,' Sheena said.
Meanwhile, Presil's ex-girlfriend's lawyer claims that the lawsuit is merely a scam so that he can avoid paying child support.