Coronation Street star Faye Brookes, 30, has opened up about her raunchy lesbian sex scene with Bhavna Limbachia, 33, describing it as the raciest thing she has had to do in her career so far.
The actress, who plays Kate Connor in the ITV soap, was worried that the steamy episode would offend older viewers.
Kate was seen finally enjoying an intimate moment with Limbachia's character last week, which shocked some viewers at home.
Brookes, who is dating pop star Gareth Gates, has confessed to feeling anxious about how the scene would go down with fans of the soap.
She told The Mirror: "I've never seen anything so racy on Coronation Street as when I watched back what we filmed that day.
"I'm loyal to older viewers, so I don't want to upset them, but I think we might have. I have never done anything like this in my life. I met my boyfriend when I had to kiss him on stage, but even that wasn't as racy as what I had to do."
Brookes also admitted that she loves the storyline involving her character Kate, however, despite her recent antics.
She also said: "It's the cherry on the cake. We're in the thick of it, being pushed to our absolute limit as actors."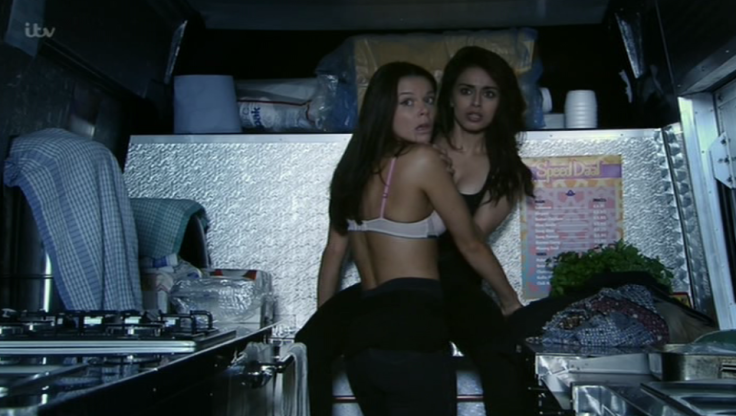 Kate and Rana's romance was let out of the bag when Luke Britton opened his van door to witness the pair kissing passionately in their bras.
And Brookes needn't have worried about the public reaction, as some of it hailed it the best moment in the soap's history.
One person tweeted: "holy woooow that awesome news thats increditable best onscreen couple2017 #Kana totally smashed it on friday best scene ever thanx to the scriptwritters".
As another viewer said: "I love how Rana always grabs Kate face, hair & body when she kisses her. It's like she needs to feel her close. I've gotta tell you @Faye_Brookes & @BhavnaLimbachia are really giving their all to make it look real!"
While a third added: "So great to see Kate and Rana give in to their true feelings, long may #kana continue."
Coronation Street continues tomorrow at 7.30pm on ITV.