FBI Director James Comey is a man who doesn't take security lightly, however in a rare slip during a public event he gave enough away to expose his private Instagram and Twitter accounts.
Despite being in charge of one of the most secret, intelligence gathering, organisations in the world Comey let slip at the Intelligence and National Security Alliance leadership dinner that he has uses the social media platforms but, naturally, his accounts are secret.
He did reveal, however, that he has only nine followers on Instagram – a nugget of information that was enough for Gizmodo reporter Ashley Feinberg to head off on some sleuthing and in the process expose a huge security flaw with Instagram.
"I have an Instagram account with nine followers. Nobody is getting in. They're all immediate relatives and one daughter's serious boyfriend. I let them in because they're serious enough. I don't want anybody looking at my photos. I treasure my privacy and security on the internet," Comey was quoted as saying.
Naturally, finding Comey's family would lead to Comey himself so the reporter set about trying to locate them on Instagram. No luck. Then after some digging it was discovered Comey's son, Brien Comey, was tagged in a tweet by his college Twitter account and led to a trail where a post with an Instagram link was included.
Brien Comey, however, like his dad also had a locked account. But here's the interesting twist: a major flaw with Instagram's security and anonymity reveals that profile's other contacts and friends when you request access. A similar privacy issue exists with Facebook too, where even those who keep their friends blocked from others seeing, a simple friend request will highlight people in their contacts you may know.
In this instance, the algorithm suggested a number of other accounts you might want to connect with including Patrice Comey (James' wife) and some accounts without profile pictures. A quick scan of the profiles suggested found the only one to have anywhere near the "nine followers" Comey mentioned earlier was attributed to reinholdniebuhr. Again, it was blocked but a Google search on Reinhold Niebuhr unearthed an old article where James Comey discussed how he wrote a thesis on the theologian.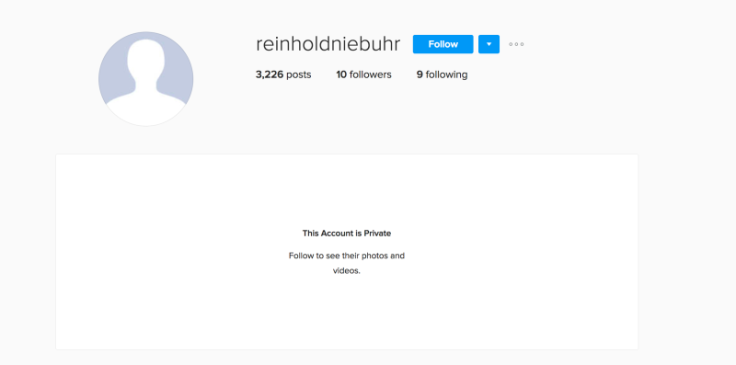 Searching for Reinhold Niebuhr on Twitter generated only seven results, with only one incognito – enough to pique interest. The Twitter handle attributed to the account @projectexile7 gave further clues Gizmodo was onto something as Project Exile is a federal program that Comey reportedly helped develop as a US attorney in Virginia.
The Twitter account, which joined in February 2014 was following a number of news outlets, law enforcement agencies and even Donald Trump. It only had one follower before the news broke that this could be Comey's secret account – since then it has skyrocketed to over 8,200.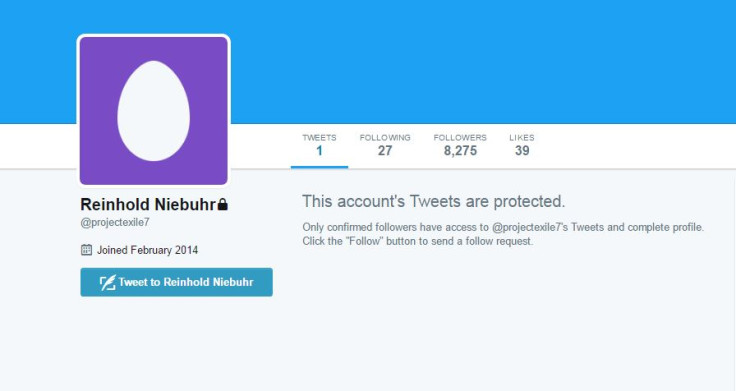 While there's still no concrete proof these could be Comey's accounts the coincidence is almost too strong to argue against. The FBI has put out a "no comment" statement and Comey has yet to comment. However, on the suspected Instagram account, if it is indeed Comey, he tipped his hat to Ashely Feinberg's super sleuthing with an applauding GIF (of Orson Welles in the film Citizen Kane) and the words "GG @ashfeinberg" (standing for good game).
Are you still sceptical? Does it seem too easy to outwit the head of the FBI? Has April Fools come early? Would James Comey use a GIF? Or are you more concerned that Instagram has a gaping hole in its privacy policy?