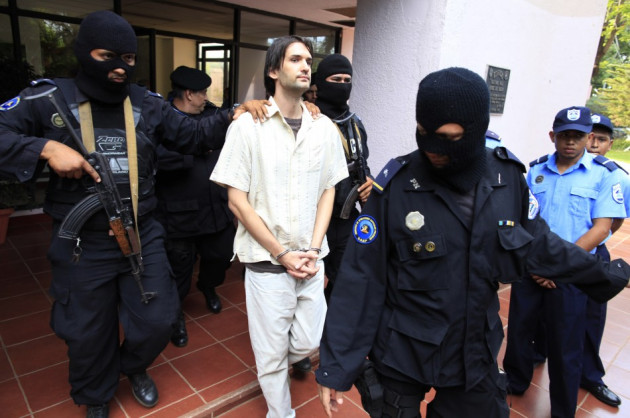 A man who appeared on the FBI's Top Ten Most Wanted list over alleged child pornography links has been arrested in Nicaragua.
Eric Toth, 31, was arrested in Esteli, a city near Nicaragua's border with Honduras, and will be immediately deported back to the US.
Toth had entered Nicaragua illegally using a false passport. He also had a fake driver's licence and credit cards.
The former Washington school teacher had been on the most wanted list since April 2012, replacing Osama Bin Laden after he was killed in Pakistan.
Toth is wanted for allegedly possessing child pornography in Washington, DC. It is alleged that in June 2008, pornographic images were found on a school camera that had been in his possession. He also allegedly produced child pornography in Maryland, according to the FBI.
The FBI said: "Toth has often been described as a computer "expert" and has demonstrated above-average knowledge regarding computers, the use of the Internet, and security awareness."
It added that the 31-year-old was able to "integrate easily into socio-economic groups".
Toth taught third grade at Beauvoir, a private elementary school in Washington. He was escorted off campus in June 2008 after another teacher reported finding sexually explicit photographs on a school camera in his possession. He had not been seen since he lost his job.
Following his arrest, the school said: "We commend the work of the Office of the U.S. Attorney and the FBI for their ongoing efforts to apprehend Mr. Toth. They have been tenacious and resolute in their quest to bring this case to justice."
The FBI had offered a $100,000 (£65,000) reward for information leading to his arrest. Whereas the FBI most wanted list usually features suspects wanted for violent crimes or terrorism offences, the FBI said they put Toth on the list because his computer skills and alleged penchant for grooming children made him especially dangerous.
A US federal law enforcement source said Toth was last seen in 2009 at an Arizona homeless shelter where he briefly lived and volunteered.
The FBI said during this time Toth might have been advertising as a tutor or a male nanny and using the alias of David Bussone.