Fed Reserve's Dennis Lockhart favours July-September rate increase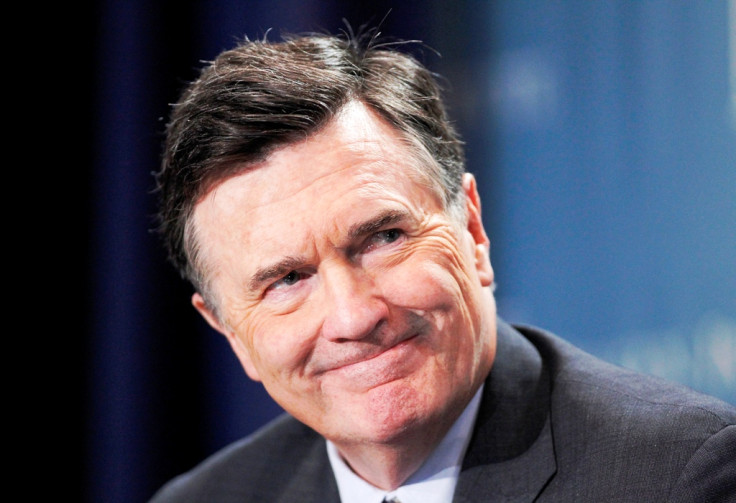 Federal Reserve Bank of Atlanta President Dennis Lockhart has said he favours deferring the US central bank's first interest rate increase beyond the next two monetary policy meetings.
The US Federal Reserve's Federal Open Market Committee (FOMC), the board that determines the direction of monetary policy, is scheduled to meet on 16-17 June and on 28-29 July.
Lockhart, speaking to Bloomberg, said the slowdown in job creation in March was consistent with "weak first-quarter growth numbers".
Lockhart added that some reasons behind the soft patch were "purely transitory, like weather", while other impacts, such as from a strong US dollar and weak oil prices, could disappear over time.
Lockhart told the news agency that it was "still reasonable" for the FOMC to "deliberate about liftoff in the middle meetings of the year", with June, July and September each warranting discussion. "I still think they should be on the table."
Meanwhile, Federal Reserve Bank of New York President William C Dudley said the path of rate increases is likely to be "shallow" once the Fed begins to tighten policy.
Lockhart said: "I would probably be biased toward the July or September dates as opposed to June.
"We will have more data and we will give the economy a little more time to prove out the thesis that I laid out, that the first-quarter was anomalous again, just like a year ago.
"...I'm holding to the view that we will see a rebound in the second quarter and that we will see a resumption of stronger growth."
Earlier, Dudley, in a speech in Newark, New Jersey, said he will be watching "to determine whether the softness in the March labour market report...foreshadows a more substantial slowing in the labour market than I currently anticipate".
Analysts' take
Danske Bank said in a note to clients: "Looking through the weather effect, which we estimate led to a drag of around 35,000 in March, and adding that payrolls have been extraordinarily strong in the past few months, we are not too worried about the March report.
"If our view that Q1 weakness in GDP growth is primarily caused by temporary factors is correct, payrolls should pick up again to an above-200,000 pace on average over the next few months.
"In our view, this would leave the FOMC on track to deliver a first rate hike in September."
BMO Capital Markets said in a report: "Judging by the non-manufacturing ISM index, underlying US economic momentum remains pretty decent and it looks like some of those temp factors weighing on Q1 should filter out in Q2."
© Copyright IBTimes 2023. All rights reserved.