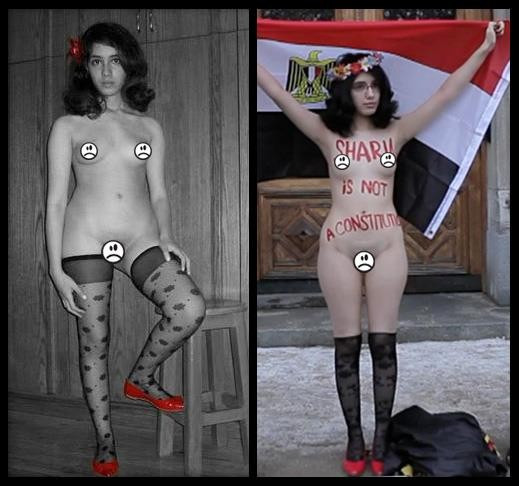 Egypt's famous naked blogger Aliaa Magda Elmahdy was allegedly kidnapped last year in her home country after posting nude pictures of herself online and is now on voluntary exile in Sweden, a member of radical feminist group Femen has claimed.
Inna Scevchenko told Al Arabiya that Elmahdy, who on Thursday staged a nude demonstration along with members of the women rights' group in Stockholm against the planned Egyptian constitution, became a Femen activist two weeks ago and can not go back to Egypt.
"She was kidnapped in her country and now she is in Sweden on asylum, but constantly followed by various security services," Scevchenko said.
The claims could not be independently verified.
Elmahdy, who last year caused a controversy across the Arab world for her nude online pictures, posed naked with "Sharia is not a constitution" painted on her body along with other two Femen activists.
The activist told Al Arabiya that she wanted to "make change".
"I chose to protest this way because of the ideas that say that we do not own our bodies and that we are public property, as people are the ones who decided what should be done with our bodies," she said in a telephone interview.
"Of course, if we want to make change, we have to do it unlike the way it is done."
Her Stockholm protest has already triggered angry remarks, with Mahmoud Afifi, spokesperson for Egypt's April 6 Movement, describing the protest as "obscene".
Elmahdy said her family is facing harassment in Egypt and she fears she would be jailed if she returns to her country.