Ukraine: Femen Women Activists Stage Semi-Naked Protest [SLIDESHOW]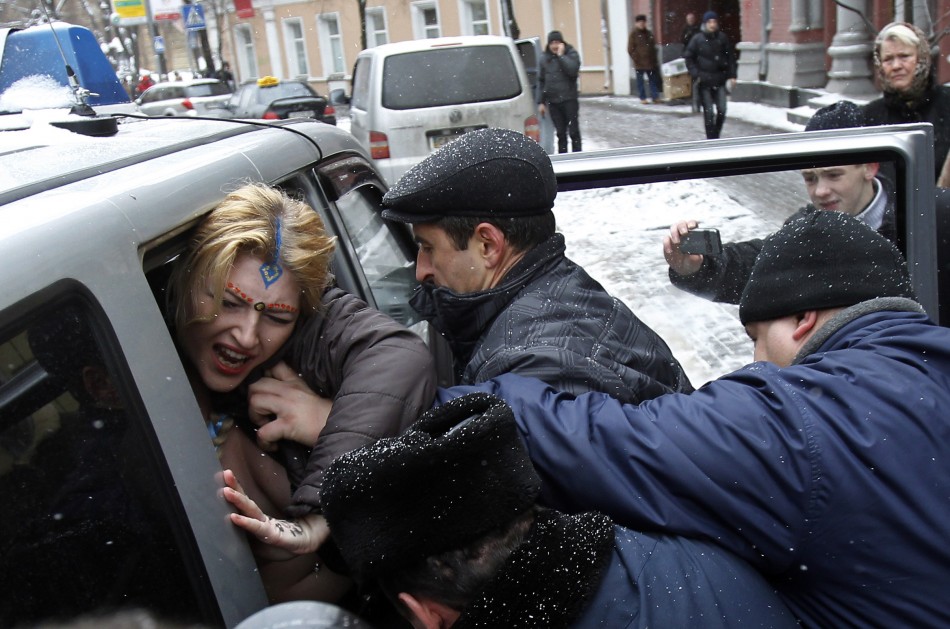 Activists from the women's group Femen braved the cold stripped to the waist to stage a semi-naked protest in Kiev outside the residence of India's ambassador to Ukraine.
The demonstration came in response to reports in Indian media that Indian consular sections in ex-Soviet nations, such as Ukraine, Russia, Kazakhstan and Kyrgyzstan, had tightened visa applications for women aged 18-40 to prevent the travel of sex workers to India.
The activists occupied the second floor of the residence and shouted "Ukraine is not a bordello", "We demand apologies" and "I am not a prostitute."
Police detained all the participants in the protest.
In December, the Ukrainian feminist group staged another bare-breasted protest outside Christ the Saviour Cathedral, Moscow's symbol of religious revival, in front of the Kremlin. They waved signs that read "God, get rid of the Czar!", with clear reference to Vladimir Putin.
Earlier that month, they staged another topless protest outside the Olympic Stadium in Kiev ahead of the Euro 2012 draw. The protest was against what they claim were attempts to legalise prostitution during the 2012 European Championship, which is due to be held in Ukraine and Poland in June and July.
Femen has acquired an international reputation for members' audacious semi-naked protests.
© Copyright IBTimes 2023. All rights reserved.