Ferrari's Fernando Alonso and current world champion Sebastian Vettel could co-exist in the same team, according to team principal Stefano Domenicali.
The two-time world champion Vettel reportedly has a pre-contract agreement for 2014 with Ferrari, who currently trail Red Bull by 67 points in the constructors' world championship.
With four world titles between them, the two drivers would have to compete within one team from 2014, a reality that has proven difficult for the likes of Ferrari and Red Bull in the past.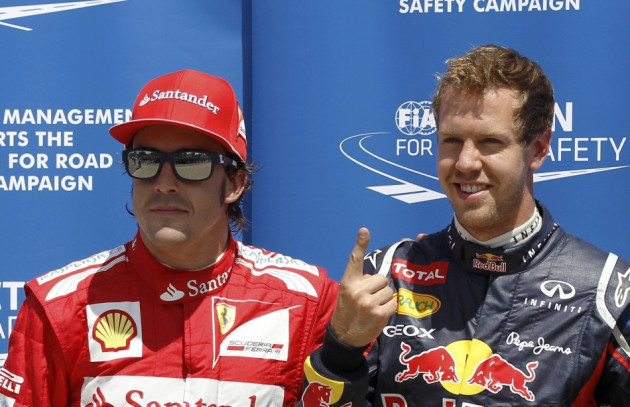 "I think they are both intelligent guys and they could easily coexist together," Domenicali said.
Formula 1 supremo Bernie Ecclestone said: "That wouldn't be a problem: both are drivers who are always looking for a new challenge and to be in the same team would be a new and big challenge.
"They would both think they can bear the other one, as they are sure of themselves and Stefano would do what was required to so that they were treated equally.
"Seriously, all drivers want to drive for Ferrari at least once in their career, don't they?" he added.
Both Alonso and Vettel are considered the No.1 drivers at their respective teams; however it has led to a tempestuous relationship with their teammates Felipe Massa and Mark Webber, and with one driver likely to be forced to play second fiddle, it's unknown whether one team could house the duo.
The pair have won four of the last seven world championships, with Red Bull having risen to prominence due the superb work done by designer Adrian Newey.
Having worked successfully with Williams and McLaren in the past, Newey has now masterminded designs with three championship winning teams
Domenicali believes the 53-year-old is one of the best technicians in the sport, but that his team's unity could prove crucial in a drivers champions that sees Alonso just two points adrift of leader Lewis Hamilton.
"Newey is definitely one of the best engineers in Formula 1," Domenicali said. "In this sport teamwork is the most important thing and in Ferrari, we have a great team, made up of people who are progressing together and who can now show what they are capable of."