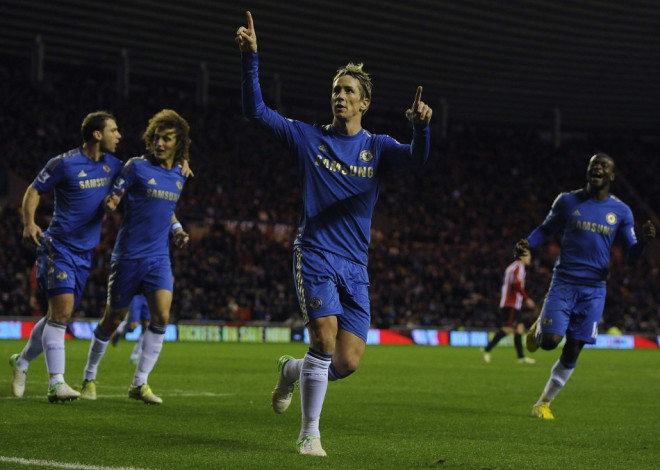 Fernando Torres claims that some Liverpool fans didn't understand his decision to leave for Chelsea because officials at the Merseyside club supplied a different interpretation of the move to the British media.
The Spaniard left Liverpool in January 2011 after Chelsea broke the British transfer record by paying £50m to secure his services.
Liverpool supporters were left disappointed with Torres' move south and when asked in an interview with Spanish newspaper AS if he believes supporters are now more understanding of his decision, Torres said: "No, because everything they've heard is the version that some people at the club have given to the media and have spread among the supporters.
"They've made it out to be something, which isn't the truth. I'm sure it isn't easy to understand why a player leaves, but I focus on the thousands of letters that I receive here in London, from Liverpool fans thanking me and telling me that they follow me now, even though I'm at another club," Torres said.
"When we went to play at Anfield last year, a man of more than 70 years old came to the hotel, almost in tears, and thanked me and wished me the best. There'll be all sorts of opinions, but the Liverpool fans I've come across have had words of affection for me."
Despite the circumstances surround his move to Stamford Bridge, Torres still holds onto his amazing memories from his time in Anfield.
"I played there for three and a half years and I was made to feel right at home, like at the Calderón. The support the fans gave me was tremendous, and gave me tremendous confidence and self-assurance when I went out to play."
And asked whether his time at Chelsea has lived up to expectations, Torres said: "In two and a half seasons, I've won a Champions League, an FA Cup and a Europa League, and I still have years remaining at Chelsea in which to keep on winning more trophies."
With some reports suggesting the Spaniard may move back to Atletico Madrid at the end of the season as part of deal involving Thibaut Courtois, Torres refused to rule out a return to La Liga.
""In football, you never know. You don't know where you're going to be tomorrow, in a week's time or in ten years' time. How can I answer that question?" Torres said.
"You never know where life is going to take you. There's nothing to say I'd end up with Simeone here or at Atleti. Who could have told me that I was going to coincide with Rafa Benítez at two different English clubs?"
But asked if would like to be coached by current Atletico Madrid manager Diego Simeone, he said: "I've had a lot of admiration for 'El Cholo' (the Atletico manager) ever since we were team-mates.
"He helped me a lot. He taught me how to be a captain; he taught me a lot in the seasons we played together at Atleti. I always want to work with people I admire. I admired Rafa Benítez from the outside, and I had the chance to work with him, " Torres added.
"The same goes for José Mourinho or Luis Aragonés. I've been lucky enough to work with people who, when you saw them from the outside, you said: 'What have they got, what's their secret, why do all the teams they coach work well...?' Simeone is like [Pep] Guardiola or like other coaches, who you'd like to go and see how they coach and learn."