Ferrari President Luca di Montezemolo has suggested that he would like current world champion Sebastian Vettel to replace Fernando Alonso should the Spaniard ever decide to leave the team.
There has been speculation in recent months that Vettel would be joining Ferrari for the 2014 season; however these reports have been denied by the German driver.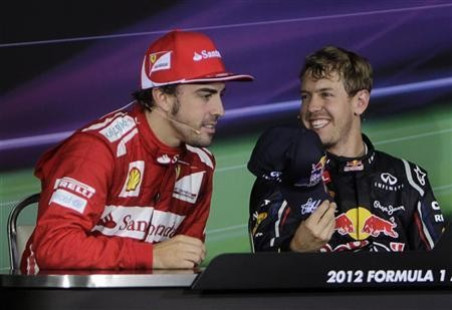 The 25-year-old remains contracted to Red Bull, but Montezemolo has admitted that he would rather see Vettel move to Ferrari than the 2008 world champion Lewis Hamilton.
"If for whatever reason Fernando Alonso were to leave one day, maybe because he wants to retire in Hawaii with his girlfriend, then I want Vettel," said Montezemolo, as quoted in Gazzetta dello Sport. "Sebastian is a potential Ferrari driver for the future."
Speaking at Ferrari's Maranello factory the 65-year-old admitted that Vettel, Alonso and Hamilton are the three best drivers but made it clear he preferred the German, saying: "because he's younger and hasn't been around so many teams".
Hamilton only recently confirmed that he would be leaving McLaren to join Mercedes as here had been suggestions that he may have been interested in a move to Ferrari.
However, it seems clear that if Alonso, who is contracted until 2016, was to ever leave the Italian F1 team then Vettel may well receive a call.
Montezemolo also admitted that it was former Ferrari driver Michael Schumacher who first brought Vettel to his attention.
"It was Schumacher who pointed him out to me a few years ago, as he knew him from the time when Sebastian was still racing karts," he added. "I have to admit Michael was right but having said that, I am immensely happy to have Alonso in our team!"