Ferrari has revealed a convertible version of the LaFerrari hypercar. To be named and shown off in more detail at the Paris motor show in October, the car has the same performance as its hard-topped sibling, but is expected to be even more exclusive and expensive.
Tipped to cost in the region of £2m ($2.6m), the LaFerrari convertible will be twice as expensive as the regular car, and only 150 examples are expected to be made, compared to 499 of the original. But if you've already raided the piggy bank and were hoping to place an order, we have some bad news, because Ferrari says it held a secret event with potential buyers and all of the cars have already been sold.
The car has both a removeable soft top and a carbon fibre hard top, the latter to make the cabin a more comfortable place to be on long motorway journeys and while driving at high speed.
Having the same 6.3-litre, V12 engine and hybrid electric system as the regular LaFerrari means 950 horsepower, rear wheel drive, a 0-60mph time of under three seconds, 0-124mph in under seven seconds, and 0-186 (300km/h) in 15 seconds. The top speed remains unchanged at 218mph.
Ferrari claims "significant and extensive" modifications have been made to the chassis in order to retain the original car's torsional rigidity and stiffness, two aspects which are often lost when a car's roof is removed. The new car's aerodynamics have also been honed to guarantee it has the same drag coefficient with the roof open as when it is closed, Ferrari claims.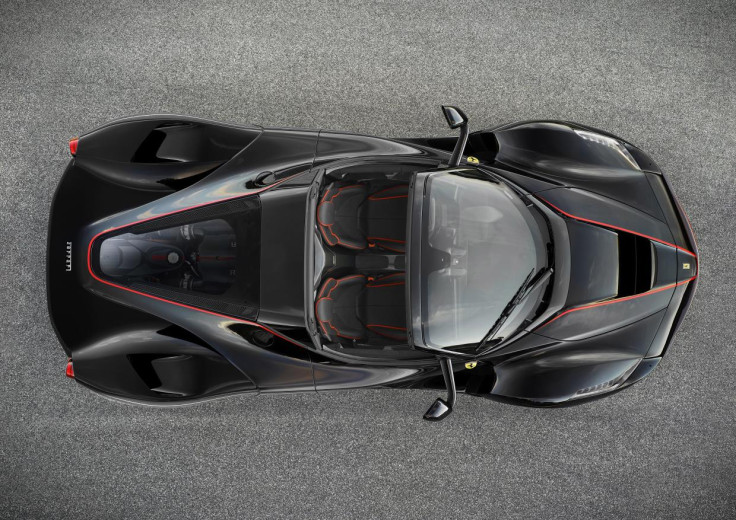 Although these are the first official photos of the new LaFerrari, the car's existence was confirmed in May by celebrity chef Gordon Ramsey, who told the recently-resigned Top Gear host Chris Evans that he had ordered one, while being interviewed on the show. Ramsey showed off a key for his new car, which Ferrari sent to each customer by way of confirming their order.