A Ferrari that was lying unattended in a barn, for more than 35 years, has been sold for £102,000 by the Bonhams auction house, in Oxford.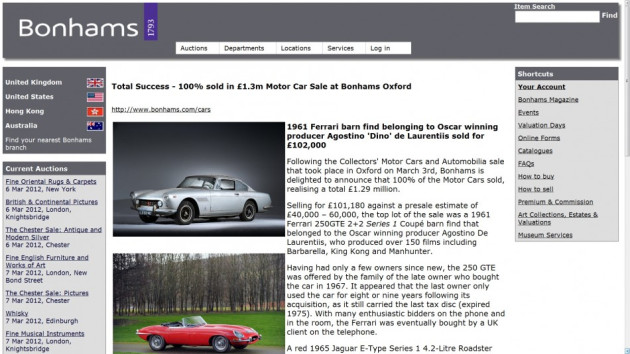 The silver 1961 Ferrari 250GTE 2+2, which has a three litre V12 engine, was taken to the saleroom covered in cobwebs and straw... straight from its resting place in Kent, where it had laid since 1976, reported the Daily Mail.
The car belonged to late Oscar-winning Italian film producer Agostino De Laurentiis, whose cinematic credits included "King Kong" and "Barbarella". Apparently he bought the car in 1967, from an Italian individual.
The car passed through a few other hands after De Laurentiis. Its last owner was a woman who was given the car by her father, a Dr Hector Anderson. The car was driven for only eight years, until 1975, before being consigned to the barn. All in all, the car has reportedly only driven 49,000km.
"This well-preserved 'barn find' represents a wonderful opportunity to acquire an original and untouched early Ferrari 250GTE, ripe for sympathetic restoration by a fortunate new owner," the Telegraph quoted Rob Hubbard, a senior specialist at Bonhams, as saying.
Another highlight at the auction was Sir Elton John's red 1965 Jaguar E-Type Series 1 4.2-Litre Roadster. The car, which the singer fondly referred to as 'OK Elton', fetched £82,140.