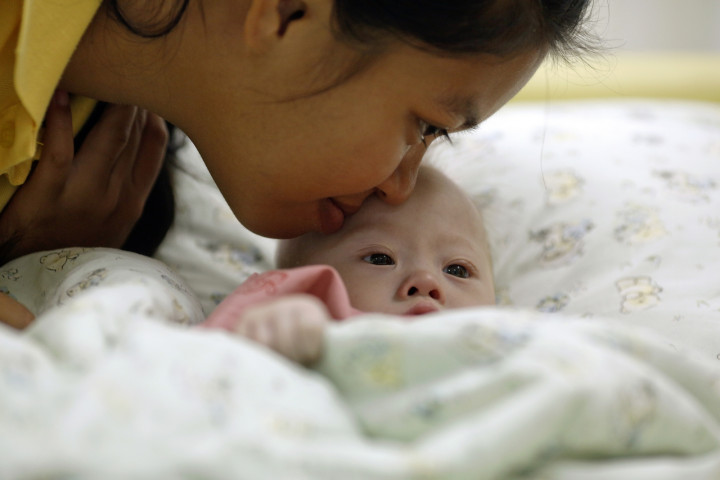 Thailand has reportedly stopped surrogate babies leaving the country in a landmark move to halt fertility tourism to the country following a high-profile case involving an 'abandoned' Down's Syndrome child.
Four couples from the United States and Australia were reportedly prevented from boarding their flights home unless they left their surrogate infants behind on Thursday. Two homosexual couples from Australia were stopped at Bangkok airport and were told they would need to apply for court orders to take the babies out of the country, according to Australian Broadcasting Corp (ABC).
One of the couples had attempted to travel with the Thai surrogate mother of the child in the hope of avoiding a challenge at the immigration desk, ABC said.
Thai immigration authorities have said they have no record of Australian nationals being barred from leaving the country with surrogate babies, but said it is possible that it was not flagged in the system.
Thailand's immigration police spokesman Colonel Voravat Amornvivat said: "Under the Thai law, in order to bring an infant out of the country, it has to be proven that the infant is travelling with or accompanied by the parents. And due to the recent surrogacy issue, the authorities are keeping an eye on those leaving the country."
Thailand's military government gave preliminary approval on Wednesday for a draft law to make commercial surrogacy – paying a woman to carry a child for you – a criminal offence.
The proposals, which will need to be approved by the National Legislative Assembly and then endorsed by King Bhumibol Adulyadej, follow a number of high-profile "wombs for hire" scandals in recent weeks.
Baby Gammy shines a spotlight on surrogacy
David and Wendy Farnell are the Australian couple at the heart of the 'Baby Gammy' Down's Syndrome story. It was initially reported that they refused to take the child when they discovered he had the condition and took his twin sister back to Australia alone, leaving the surrogate mother struggling to pay for Gammy's medical care.
The Farnells refute the accusations and say they wanted to keep both babies but had to leave Thailand with only Gammy's healthy twin after the Thai surrogate threatened to involve police.
It's not the first time the commercial surrogacy business has caused controversy in Thailand. In a separate case on Wednesday, Thai authorities said they were looking for a Japanese businessman who is suspected of having fathered 13 babies using Thai surrogate mothers.
Police Major General Chayut Thanathaweerat said the man was a Japanese national, but declined to confirm his identity.
He added, "We cannot confirm why he fathered these babies. All we know is that the suspect has left Thailand and that he is from a millionaire Japanese family."
A sinister business
The cases have exposed a sinister side of Thailand's surrogacy business, which attracts couples from all over the world who are unable to conceive naturally.
Thailand currently has no specific law to regulate commercial surrogacy, which is barred by the Medical Council of Thailand, except in cases involving blood relatives and with individual exceptions provided money no financial profit is made.
Rights activists say law drafted this week could create uncertainty for foreign couples who now have pregnant surrogates in the country.