Fidel Castro Makes Rare Appearance to Vote in Cuba's 'Revolutionary' Elections
Cuban revolutionary leader casts ballot in Havana and speaks to voters and journalists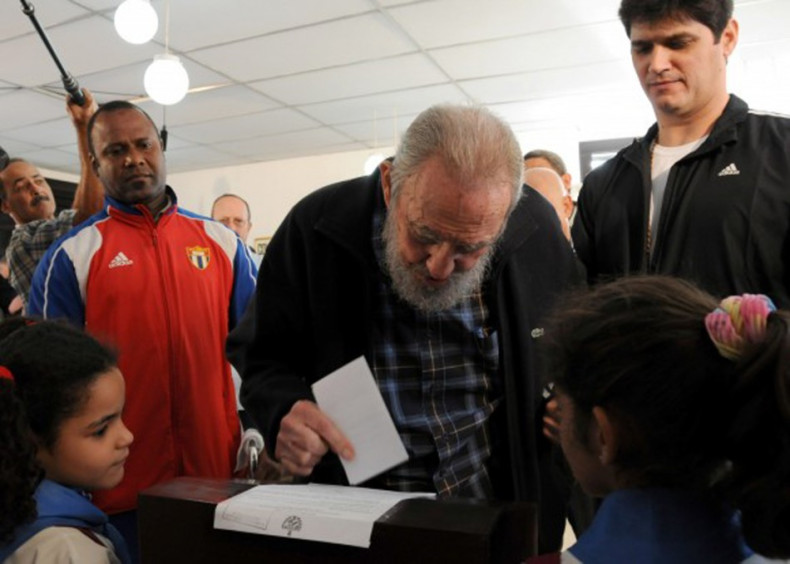 Fidel Castro has reappeared in public for the first time in several months to cast his vote in Cuba's parliamentary elections.
Wearing a blue plaid shirt and light blue jacket, the 86-year-old leader appeared live on state TV and reportedly spoke for more than an hour with voters and reporters at polling station in Cuba's capital of Havana.
"The people are truly revolutionary, they have really sacrificed. We don't have to prove it, history will. Fifty years of the blockade and they haven't given in," he said praising Cubans' participation in the elections.
Since he fell ill in 2006 Castro has been leading a secretive life sparking speculations about his frail health and often also rumours about his death.
Castro voted in three previous different elections but always casting his ballot from home, while his last live TV appearance coincided with Pope Benedict XVI visit to the country in March 2012.
Cubans voted to elect 612 deputies to the National Assembly and over 1,600 delegates to provincial assemblies.
Castro himself was among the 25 Assembly candidates from the eastern city of Santiago.
However electoral competition is still does not exist in the Caribbean island, as organised opposition is banned and all the candidates had been pre-selected by the Communist Party.
"It is a different electoral system. Personally I find it is more democratic than (others) I know," Foreign Minister Bruno Rodriguez commented.
"I come to vote of my own volition with the hope that we will see the delegates and representatives do their job, that they don't just get comfortable, that we see improvement," said Arnaldo Herrera, a 54-year-old electrician, at a polling site in Havana.
"They need to do something, for example fix buildings that have problems. Some of them are falling down," Herrera added. "''People need to feel satisfied by what they do."
Elected deputies are widely expected to confirm Fidel Castro's brother Raul as President, a position he has been holding since a few months after his brother stepped down in 2006.