Syrian forces and rebels continued to battle for control in Aleppo on Saturday (24 September) as regime warplanes bombarded the rebel-held eastern area in a Russia-backed offensive.
In the massive ground attack, army forces and its allies captured the Handarat Palestinian refugee camp, just a few kilometres north of Aleppo, but the rebels counter attacked a few hours later.
A senior rebel official was quoted by Reuters as saying, "The fighters are waging ferocious battles because it is a battle of existence." According to reports, rebel forces have regained control of parts of Handarat. The UK-based Syrian Observatory for Human Rights said that forces were still involved in the ongoing offensive.
The attack on Aleppo could be the biggest yet in a war that has killed hundreds of thousands of people and drove millions of people from their homes. The head of the Civil Defence Rescue Service, Ammar al Selmo said on Saturday, "There are planes in the sky now. Our teams are responding but are not enough to cover this amount of catastrophe."
At least 45 civilians were reportedly killed as heavy air raids shattered buildings on Saturday. The UN has said that at least two million people in Aleppo have been left without water because of the attacks.
Britain, France and the US have asked for an urgent United Nations Security Council meeting regarding the escalating situation in the region, diplomats said on Saturday. The meeting is scheduled to take place on 25 September at 10 am (3pm BST), diplomats said.
UN Secretary-General Ban Ki-moon is "appalled by the chilling military escalation" in Aleppo, his spokesperson said. Stephane Dujarric said that the secretary-general was alarmed by strikes that involved incendiary arms and bunker busting bombs.
"Since the announcement two days ago by the Syrian army of an offensive to capture eastern Aleppo, there have been repeated reports of air strikes involving the use of incendiary weapons and advanced munitions such as bunker-buster bombs.
"The secretary-general considers this a dark day for the global commitment to protect civilians," he said.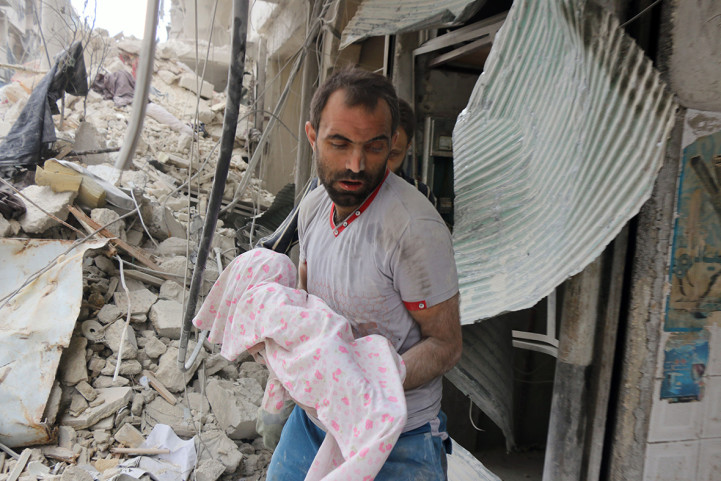 Meanwhile, UK Foreign Secretary Boris Johnson indicated that the fatal attack on a UN aid convoy in Syria last week could have been carried out deliberately by Russian warplanes. He added that if this turns out to be true, it amounts to a war crime. Moscow has denied conducting the air raid and said it could have been done by rebel forces.
Syrian Foreign Minister Walid al-Moalem said that the regime has made great strides against terrorists in the area. He told the UN General Assembly in New York that his belief was stronger than ever for victory.