11:01: Germany progress into the final of the World Cup where they will meet either Argentina or Netherlands. It's been a historic night in Brazilian for all the wrong reasons. The dissection will begin immediately but the lasting effect tonight will have on their players could be seismic.
22:52: It's been nothing short of a massacre. Brazil, the most successful side this wonderful competition has ever seen, have been utterly dismantled on their own turf. Thomas Muller's opener followed by four goals in six minutes set the tone for perhaps the most extraordinary first half in football history. A brace from the outstanding Andre Schurrle was a powerful indication of the unyielding drive Germany possessed tonight. Despite the pleas of Brazilian players and fans alike, Joachim Low's side were relentless in their incisive attack that showed no signs of abating all evening.
Try to get your heads around it. Brazil 1-7 Germany.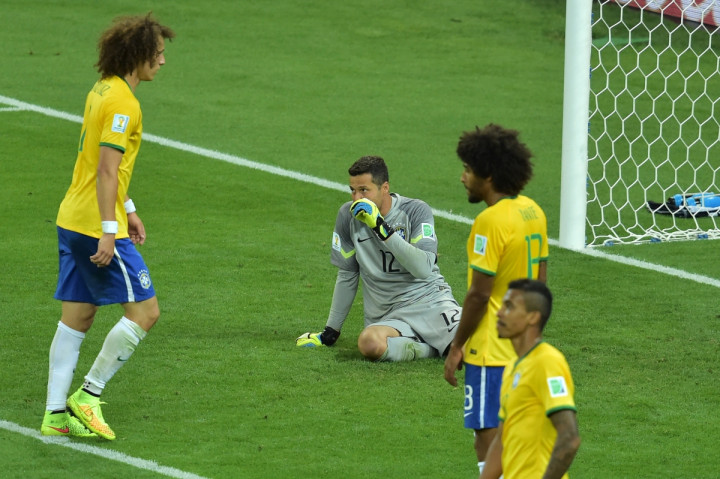 FULL TIME
Brazil 1-7 Germany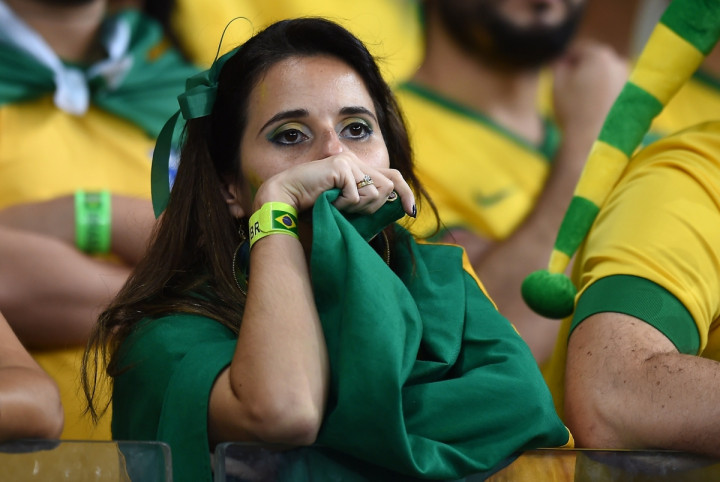 10:47: Brazil have scored perhaps the most forgettable goal in World Cup history. Ozil is freed up the other end and has the chance to secure his side's record victory one on one with Cesar, but drags his shot wide. Cesar hoofs it up the other end and for once Neuer remains in his box, allowing Oscar to race onto the clearance, cut inside and slam an effort home.
Goal! Brazil 1-7 Germany (Oscar, 90)
10:45: Just one minute of normal time left.
10:44: Brazil march up the other end and Willian slides a neat ball through to Oscar down the inside left channel. From a very acute angle the Chelsea man fires one across goal but it never really troubles Neuer.
10:42: Marcelo bewilderingly rushes out again to intercept it but horribly mistimes his effort. Schurrle now has acres of space down the inside right channel with two teammates across but his ball across goal is deflected out.
10:40: How many goals has David Luiz been culpable for this evening? He was at fault for Schurrle's latest effort, he's arguably been at fault for all seven of them.
10:39: That seventh goal was met with a round of applause by those Brazilians who still have the stomach for this second half.
10:36: What a finish from Schurrle! The Chelsea forward races down the inside left channel onto a flicked through ball with Marcelo unable to keep up with him. After a sublime first touch he hits a wonderful effort that cracks off the underside of the bar before resting in the back of the net.
Goal! Brazil 0-7 Germany (Andre Schurrle, 79)
10:33: Julian Draxler comes on for the excellent Sami Khedira.
10:31: David Luiz charges out of defence and horribly shanks his clearance/pass. He then starts protesting, pointing at a German player - I think it was Muller - who just happened to be standing nearby. Not sure what the problem was there.
10:27: Prior to that, Fred came off the pitch to a chorus of boos, replaced by a rather nervous looking Willian. The camera cuts to a crestfallen Fred on the bench, cueing another defeaning wall of jeers from Brazilians in attendance.
10:26: It's too easy for Germany. Off the bench, Schurrle has made it six, tapping in from six yards out after a simple ball in from the right from Lahm. Luiz made no effort to get across and pick up the free midfielder, and the Chelsea forward inflicts more misery.
Goal! Brazil 0-6 Germany (Andre Schurrle, 68)
10:24: The ball breaks to Paulinho in the six yard area and Paulinho opts for the overhead kick. It was never going to go in on a night like this. The offisde flag is up anyway.
10:23: So nearly six for Germany! It's three on one in this latest attack and very unselfishly Schweinsteiger opts to slide the ball across to the onrushing Schurrle. Cesar reads it terrifically however and slides out to intercept.
10:21: More worrying scenes across Brazil.
10:19: Maicon tries to dance his way into the box and hits the deck in theatrical challenge. Abysmal dive.
10:17: Another chance for Germany! From the resulting corner the ball falls to Muller on the edge of the area and the forward looks to bend a brilliant effort towards the top left hand corner, only for Cesar to claw it away. Moments before that Andre Schurrle came on to replace Klose.
10:15: Neuer doesn't care that his side are coasting into the final, he's performing as if this contest is tied at 0-0. After another excellent claim from a Brazilian cross he expertly launches a counter that finds Muller bursting ahead off the shoulder of Luiz. The forward is forced slightly wide by the onrushing Cesar and could of perhaps gone down. Good goalkeeping from Cesar, however.
10:12: Away from the shattering effect this will have on Scolari's side, the consequences on Brazil could be far greater. Riots and protest were common place in the build-up to this competition. There could be more to follow.
10:10: Another brilliant save! Oscar dinks a ball over the top for Paulinho whose first effort is blocked by the legs of Neuer. The Spurs midfielder reacts quickly to get another effort off but he is brilliantly denied by the German keeper again, making himself huge to block the effort.
10:09: Good save from Neuer! A ball is slipped through just outside the six yard area and it falls to Oscar who hammers one on goal, but the German no. 1 is equal to it.
10:07: Paulinho and Ramires exchange a series of neat one twos just inside the right hand side of the German box. Ramires then breaks to the byline and is picked out and tries to hammer a ball across goal for Oscar but Neuer is out quickly to clear.
10:05: Brazil look intent on scoring a goal for pride, but it's a dangerous game given how lethal Germany have been on the counter.
10:03: If this was the first half, you would say this has been a decent opening. They've approached Germany with some intent, albeit without the invention. Oscar tries to win a cheap penalty after running into Boateng but the referee isn't interested and the Chelsea man is maybe lucky not to be booked for simulation.
10:01: And we are back underway for the second half. A few changes to bring to you, Fernandinho and Hulk are off for Paulinho and Ramires while Mats Hummels have been replaced by Per Mertesacker.
9:50: Where to start. We've just seen one of the most remarkable first halves in football that we will ever see. Brazil have been torn shreds by a relentless, incisive Germany. Scolari's side are utterly traumatised as they leave the pitch and the production manager at the Estadio Mineirao is having a ball picking out shots of distraught Brazilians in the crowd.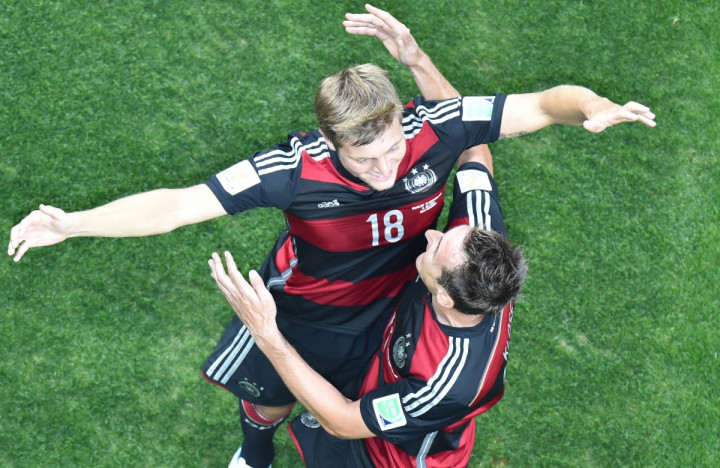 In the absence of their captain Thiago Silva and their inpsiration Neymar, Brazil simply cannot operate. A record breaking goal from Miroslav Klose, a brace from Toni Kroos and one each from Thomas Muller and Sami Khedira have inflicted a harrowing first half hammering on the hosts whose tournament will end this evening with a whimper.
Marcelo, Maicon, Luiz and Dante have never played with each other based on tonight's evidence. Just how appalling they have been is difficult to explain and their stand in captain for the evening can count himself lucky to still be on the pitch after an elbow on Klose went unnoticed. It's been humiliating for Brazil, but wonderful for Germany.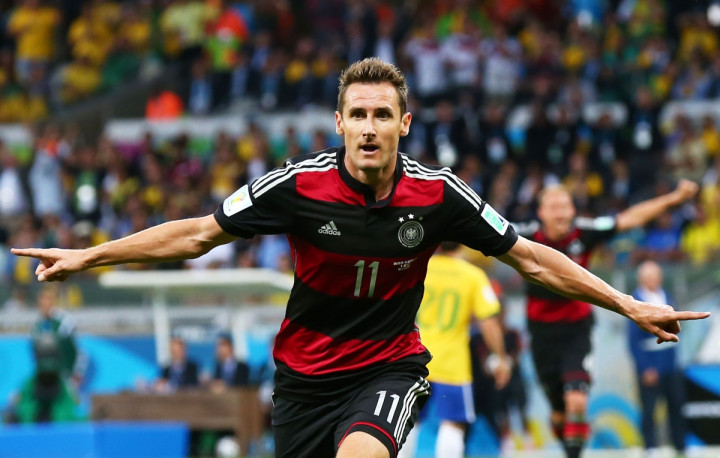 HALF TIME
Brazil 0-5 Germany
9:46: A rare occurrence, David Luiz brings the ball out of defence and spays an inviting ball down the inside right channel for Hulk to chase onto. He gets there, but an abysmal first touch sees the ball roll out of play.
9:44: Brazil can't seem to remember how to play football anymore. On the rare occasion they do get a sniff of the ball they run into blind alleys or fail to find a teammate.
9:42: The control Germany have had on this contest is hard to fathom, given the context of this fixture. Schweinsteiger has expertly shielded the back four, allowing those ahead of him to advance at any opportunity. Such is Brazil's lack of resistance Khedira has even been attacking at will and to great effect, having being involved in a couple of goals. I forget which ones there's been so many.
9:41: Bernard tries to mount something positive, cutting in from the left flank before he is stopped by another expert tackle from Lahm. You fear for the hosts any time they lose the ball, Germany have shown no intention of slowing down here.
9:39: Germany have a free kick about 25 yards out from goal off to the right of goal. There are four or five players animatedly discussing who will be the next to inflict misery but Kroos' eventual effort sails over the bar.
9:37: Germany haven't scpred in six minutes now. Rubbish performance.
9:34: Every time Germany advance they look like scoring. The ball is pulled back to hat-trick hunting Kroos whose half volleyed effort flies just wide of the post, maybe via deflection. Moments later Germany pounce with Maicon, Marcelo and Luiz all once again caught upfield, but this time the final ball is a poor one with Lahm eagerly looking to get involved down the right.
9:31: Where to start. Brazil have utterly capitulated here. After all the romanticism this limited side is being exposed by a brutal German side who are have been absolutely clinical.
9:29: Incredible. Luiz this time is guilty of giving the ball away and there is no shortage of Germans waiting to add their names to the score sheet. Khedira walks through, slides tha ball to the left to Ozil who returns the ball for Khedira to slide home. Four goals in six minutes, good grief.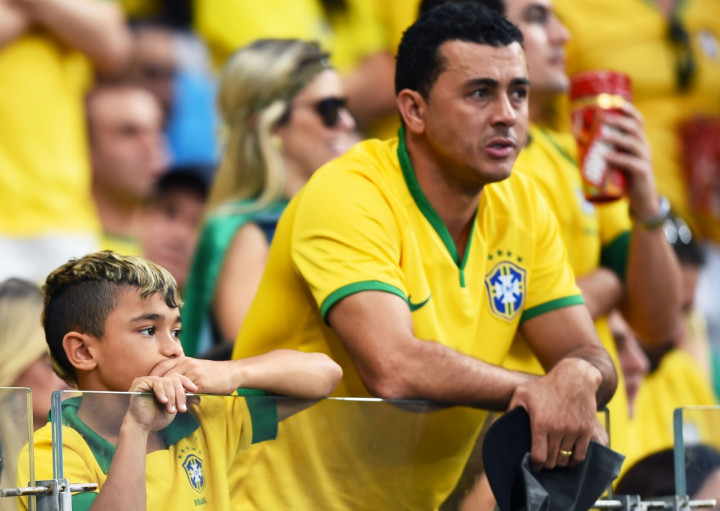 Goal! Brazil 0-5 Germany (Sami Khedira, 29)
9:26: Yes, you read that right. Fernandinho gives the ball away 40 yards away from his goal and Germany attack with menace. Khedira drives into the box and slides the ball across to Kroos who slides the ball into an empty net from 10 yards out.
Goal! Brazil 0-4 Germany (Toni Kroos, 25)
9:24: Unreal. Again down the right with Marcelo absent Germany advance before sliding the ball across goal. Muller misses his effort but Toni Kroos is behind him to slam an excellent effort into the bottom corner.
Goal! Brazil 0-3 Germany (Toni Kroos, 24)
9:22: Oh my. Germany sweep the ball in field from the right to find Kroos who gives his marker the eyes and slips an exquisite ball through to Klose on the edge of the six yard area. Cesar saves his first effort, but the veteran has the time and space to get on the rebound and tuck away a record breaking goal.
Goal! Brazil 0-2 Germany (Miroslav Klose, 22)
9:19: Brazil look very susceptible on the counter attack here. In their latest attack, Germany have an extra man across as they menacingly march up field. Ozil looks to drive a ball out to his left where Klose is breaking into space but Luiz intercepts and hacks clear.
9:17: Marcelo suddenly bursts into space down the inside left channel but is foiled by a perfect slidign challenge from Lahm. Boetang then comes across with a few choice words for the Brazilian full back, accusing him of diving. Hulk then tried to get involved but the referee is across quickly to calm the situation.
9:15: Germany are very much in the ascendency here as they begin to take control of the tempo of the contest.
9:13: Brazil try to work an opening down the right but Hulk's ball across goal takes a nick off someone and Germany pounce on the loose ball and drive forward. Muller runs down the right and following a neat one two with Klose is cynically fouled by Marcelo.
9:12: That's Muller's fifth goal of the competition, his 10th in World Cup finals.
9:11: Germany lead! After winning a corner down the right flank Toni Kroos swings a ball into the six yard area. Inexplicably, Thomas Muller is unmarked as he pulls away from the rabble of players in front of him and simply side foots his volleyed effort passed Cesar. Awful, awful, defending.
Goal! Brazil 0-1 Germany (Thomas Muller, 10)
9:08: The ball is worked across the face of the Brazilian goal and it falls to Khedira on the edge of the box. He drills a powerful effort on goal that appearances to be deflected away by his own teammate Kroos!
9:06: As they did against Colombia, Brazil have started firmly on the front foot this evening. There's been a handful of loose passes and wild clearances but it's been an exciting start in Belo Horizonte.
9:04: Frenetic start to this game, suddenly Germany have the chance to break but Klose's touch in the final third is a poor one and the chance is gone with Ozil tearing into space down the right flank.
9:03: Luiz plays an excellent ball over to the inside left channel where Hulk has pulled away but his attempt to pass the ball across goal is eagerly gathered by Neuer.
9:02: Boateng clears the corner but Brazil retain the ball with Gustavo pouncing on a loose touch from Klose. They work the ball around in front of the German back line and it is eventually left to Marcelo who has started this contest very high up the pitch. He lets fly with a shot from 25 yards but it is wide.
9:01: Germany give away possession immediately and Marcelo lifts a ball forward to Oscar which Germany manage to clear, but Howedes is unable to prevent the corner.
9:00: And Germany get us started for the first half.
8:56: David Luiz and Julio Cesar holding Neymar's no. 10 shirt aloft during their thunderous anthem.
8:54: And the national anthems are underway.
8:52: Both teams are making their way out onto the pitch. Scolari makes his way over to Joachim Low and embraces the Germany manager before handing him a present. Lovely, that.
8:39: No Neymar on the pitch tonight, but fans in their thousands have been adorning masks in tribute of their injured star as they've made their way into the Estadio Mineirão in Belo Horizonte.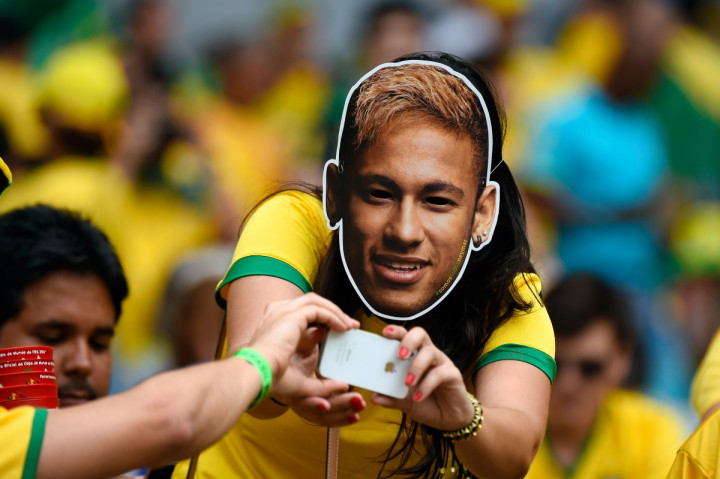 8:28: After looking so absurdly susceptible to a long ball over the top in their last 16 tie against Algeria, the return of their defensive rock Mats Hummels went some way in rectifying those concerns in a commanding quarter-final win over France. However, Joachim Low's side did look troubled by that simple game plan despite the victory. Although it's about as unBrazilian as you can possibly get, it may factor into Scolari's approach this evening.
8:20: So what can we expect from Brazil without Neymar? While Bernard will offer invention down the left, whether the diminutive 21-year-old can grasp the game and drag his team forward as their no.10 has done so far is doubtful. Hulk has shown promise and frustration in equal measure while Fred has largely encapsulated Brazil's lack of effortlessly endearing flair up front. The inclusion of Fernandinho and Luiz Gustavo in midfield however frees Oscar to take up more responsibility further up the field as many demanded he do before the tournament. It may be up to the Chelsea midfielder to provide the inspiration in attack this evening.
8:10: Many were expected Chelsea's Willian to step in and fill the void left by Neymar but Scolari has called upon 21-year-old Bernard to deliver an impact this evening. The foward left won the Copa Libertadores with Atletico Mineiro last year before he joined Shakhtar Donestk in a deal with €25m last summer.
8:03: Here are those starting line-ups, then.
Brazil: Julio Cesar, Marcelo, Maicon, Dante, David Luiz, Luiz Gustavo, Fernandinho, Bernard, Oscar, Hulk, Fred
Germany: Manuel Neuer, Philipp Lahm, Jerome Boateng, Mats Hummels, Benedikt Hoewedes, Bastian Schweinsteiger, Sami Khedira, Toni Kroos, Mesut Ozil, Thomas Muller, Miroslav Klose
TEAM NEWS -Brazil: Those two enforced changes see Bayern Munich centre half Dante come in for suspended skipper Thiago Silva while Bernard comes in for Neymar in attack.
TEAM NEWS - Germany: Joachim Low names an unchanged side to the one that beat France in the quarter-finals. That sees Philipp Lahm remain at right back and Miroslav Klose retain his place at the forefront of attack as he chases the goal that will make him the competition's all time top scorer.
7:54: In news ahead of tomorrow's semi-final clash between Argentina and Netherlands Louis van Gaal has confirmed Robin van Persie is a doubt after suffering from a stomach problem. Read our full story here.
7:50: Although he will have no role to play on the pitch tonight or in Sunday's final much of the focus in the build-up to tonight's game centres on one man. One brutally swift challenge from Colombia's Juan Zuniga on Neymar ensured the catalyst behind the few splendid moments this Brazil side have enjoyed this summer will not play again in this competition.
For a side who have been accused of being too-emotionally charged, the response from Luiz Fellipe Scolari's side has been powerful. But while his absence at the focal point of attack will be gravely felt given the insipid performances of Fred and Hulk, Thiago Silva's suspension is likely to be just as pivotal.
The absence of the opposition's best player and captain will have been music to German ears. They have the opportunity to finally end Brazil's unpredictable campaign and displace the hosts in the final. While Germany themselves has struggled at times to inspire as so many expected them to, their sheer strength in options suggests they can dictate proceedings tonight.