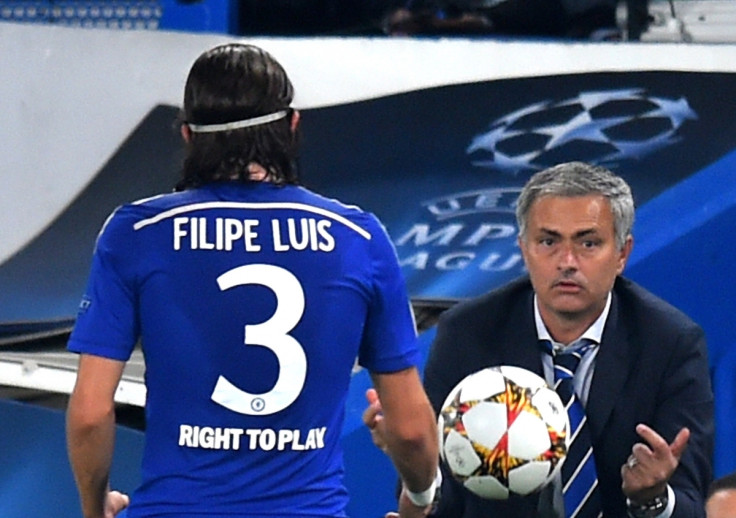 Former Chelsea defender Filipe Luis believes Jose Mourinho's frequent outbursts in front of the media are having a damaging effect on the dressing room. The Chelsea manager has accumulated fines worth £141,000 since returning to Stamford Bridge in the summer of 2013 and in the first four months of the 2015-16 season alone, he has been fined twice for criticising referees following defeats.
Former club doctor Eva Carneiro left the club following a public row with the Portuguese coach while Eden Hazard and John Terry have been singled out for criticism by their manager during his frequent tirades in front of the cameras.
Luis was part of Chelsea's Premier League-winning side last season but returned to Atletico Madrid after just one term, during the summer transfer window. While the Brazil international has faith in his former manager's approach, he questions what sort of effect his conduct with the media will have on certain players behind closed doors.
"Sometimes he's right and sometimes he's not," Luis said in an interview with Yahoo Sport. "Sometimes people think what he says is absurd and sometimes they agree with him. It's the way he is and the way he works – I see it as normal. He has his way of talking to the press, especially when the team loses, which can sometimes be damaging to certain players. Some players benefit from criticism but for others they don't."
Mourinho served a stadium ban while his side lost 1-0 to Stoke City on 7 November for the comments he made in the wake of his side's 3-1 defeat to Southampton on 3 October, where he suggested match officials were afraid to award his side penalties.
The under-fire manager also has another suspended stadium ban hanging over him after speaking to referee Jon Moss at half time in his side's 2-1 defeat to West Ham United on 24 October.